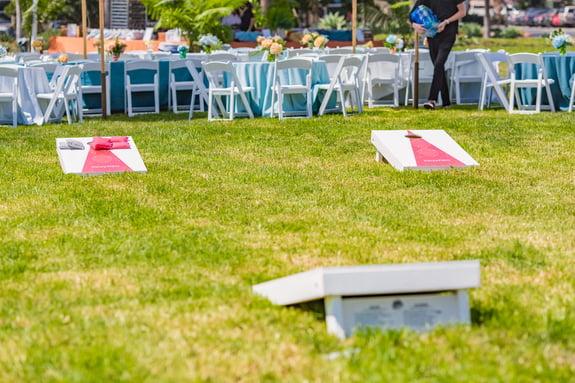 EVENT BRANDING & CREATIVE SERVICES
Collaborate with our marketing and events professionals to bring your event theme to life and integrate it with your content, sponsorships, and more.
ACCELERATING OPPORTUNITIES FOR OUR CLIENTS




CREATE MORE VALUABLE EVENTS
Events are an opportunity to put your brand messaging and vision front-and-center. But often companies will default to what's "fun" or... we hate to say it... easy.
Cohesive branding, theming, and messaging make events more memorable and support your company goals.
That adds up to more valuable events.
Why not give your event a breath of fresh air while reinforcing everything that you work so hard to communicate year-round?
Let's go beyond the "annual conference" and make your next event shine.
Our creative experts will help you identify areas of opportunity, such as:
Cohesive theming that ties into your brand principles, goals, and mission
Custom logos and branding for the event
Comprehensive communications throughout the event
Creative networking and evening events that support your theme
Connected agenda topics that continue to reinforce your theme
Cohesive content, from your keynotes to your breakout sessions
Creative opportunities for sponsor and vendor interactions
CREATIVE SOLUTIONS FOR YOUR NEXT EVENT
Discover new ways to add value to your conference, incentive trip, or meeting.
THEMING
Help your attendees understand your brand mission with an event theme that ties together everything from registration to breakout sessions. GoGather will help you develop:
Interesting and unique event themes
Cohesive agendas with sessions that stem from the theme
Evening events or outings that tie into your theme
For instance, upgrading your "annual kickoff" to "Drive 2024" gives a whole new vision to your attendees (and yes, we brought in a Nascar-themed evening event).
BRANDING & SIGNAGE
Leverage your theme throughout the conference with creative signage that gets attendees engaged. GoGather can help you:
Develop custom branding for your event, including logos

Identify locations within your venue for additional branding (pillars, staircases, pillows, etc.)

Turn "demo stations" into areas of branding opportunities
MESSAGING
Every aspect of your event has the opportunity to tie into your theme. How can you create messaging within your sessions, breaks, networking times, and more, that will reinforce your theme?
GoGather will help you with:
Cohesive content creation, from session topics to keynote selection
Speaker selection, briefing, and training
Messaging opportunities throughout your event
Battle of the Brands your theme? All of your messaging should inspire your attendees to compete and strive to be the best.
COMMUNICATIONS
Your event theme isn't only relevant when your attendees are present. GoGather will help you craft:
Pre-event communications plan, including any webinars, gifts, or content that will support your theme

Event communications, such as in-app networking or raffle opportunities

Post-event communications that help attendees connect the dots
CREATIVE ENGAGEMENT OPPORTUNITIES
Networking sessions getting stale? Find ways to get attendees more involved while reinforcing your brand:
Competitive team building exercises that support your theme

"Expo After Dark" events that help your vendors connect with attendees organically

Branded give back and volunteer opportunities
TECHNOLOGY
Integrate your theme into your registration and app to wrap it all together. GoGather can help you with:
Technology selection

In-app branding, gaming and networking

Virtual event tie-ins
OUR FAVORITE BRANDED MOMENTS
HOW WE ENHANCE YOUR EVENT WITH MARKETING AND COMMUNICATION SUPPORT
The GoGather team works closely with yours to create and execute your event theme.
Our team works closely with yours to understand your goals and identify areas of opportunity for enhanced branding.
The GoGather team will propose theming ideas to your team to choose from, then will create a master creative plan for your event.
Our trusted creative partners will help you develop branding, including logos, gifting and giveaways, signage, and more.
"We made a great team. I had ideas. They [GoGather] had ideas. The key to our relationship was the collaboration. They were willing to be as hands-on and involved as we needed them to be."
LET'S BRAND YOUR NEXT EVENT
Schedule time to meet with our team and discuss your event goals.