Conferences are key to any marketing strategy.
But they can be expensive, especially if you're looking at multiple thousands of people attending.
Keeping a strict budget is key to a successful event, but it can be difficult to know where to start.
That's where a budget template comes in.
This article will cover tips for creating a conference budget and the main categories to consider when allocating your money.
What is a Conference Budget Template?
A conference budget template is a document that helps event organizers plan and track all the expenses associated with a conference.
It includes line items for all the major expenses, such as venue rental, catering, marketing, and speaker fees. By using a conference budget template, organizers can ensure that they stay within their budget and avoid overspending.
How Much Should You Budget For a Conference?
The budget for a conference can vary widely depending on the size, location, and type of conference you are planning. Some conferences may be relatively small and inexpensive, while others may be much larger and require a significant investment.
We typically recommend our clients budget anywhere from $500 per person to $2,000 per person, depending on the size and scope of the event.
How to Allocate Your Budget
When determining how much to budget for a conference, start with your goals. What are you trying to achieve? Are you looking to generate revenue, build your brand, or educate attendees?
Once you have a clear understanding of your goals, you can allocate your budget accordingly.
Every conference will allocate a budget differently. But make sure to analyze the big buckets and consider whether it's vital you stay in a 5-star resort or if you can stay in a lower-rated hotel and allocate more food to entertainment or food. It all depends on your goals.
What's Included in Your Budget?
As you begin conference planning, there are several categories you should include in your budget. Here we'll provide a breakdown of those items.
One thing to remember as you're building your event budget is that not everything you typically consider as part of your event (e.g. airfare) might actually hit your budget. Depending on your company's finance policy, airfare or other items might hit a different budget, such as sales expenditures. Make sure you're taking that into account as you build this budget.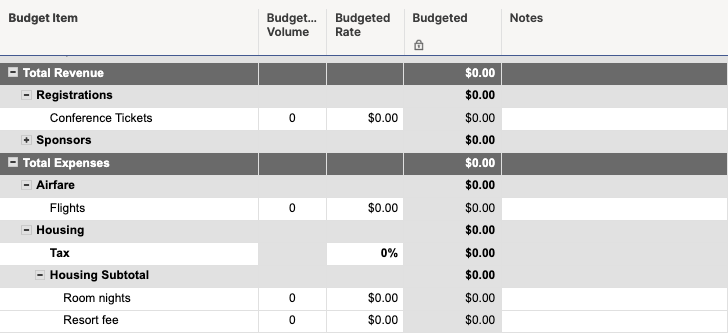 Airfare and Transportation
You may want to cover your attendees' airfare and ground transportation. If you're on a tight budget but need to cover costs, this particular area will be important to consider in conjunction with your venue.
If flights are super expensive to one city versus another, it may be advantageous to book in the latter city.

Additionally, consider whether you want to book a venue in a location that negates the need for ground transportation.
Housing and Venue
The location where your event is held has a direct impact on your attendees' experience. Room rates can vary significantly depending on the rating of your hotel and its location. Make sure to do ample research on available properties as you build out your budget.
Include enough rooms for staff, all of your attendees, and additional suites for executives. Also consider additional nights needed on either end of your conference for staff and those looking to stay longer.
As you're budgeting out the space for your conference, consider whether you need things beyond the mainstage and breakout rooms, such as additional smaller meeting rooms or an expo floor.
Food and Beverage
Food and beverage will take up a large portion of your budget, so make sure to carefully allocate your dollars here.
Consider whether you want to provide breakfast, lunch, dinner, and breaks to all guests for every day, or if you want guests to get their own meals during certain parts or all of the conference.
Audio and Visual
Your A/V vendors will be key to making your presentations and evening events amazing. This is often a large chunk of your budget, so make sure to allocate plenty here.
Entertainment
Entertainment can include anything from your mainstage speaker to your evening event band. This portion of your budget can be easily eaten up by expensive keynote speakers, so make sure to consider whether you really need that celebrity to speak, or if someone less expensive (or even someone internally!) would be a better option.
Onsite Branding
Branding is essential for any conference. From your event logo to signage around the conference, you'll want to make sure to allocate plenty of money here.
Promotional
From event invites to giveaways at the conference, make sure to build in a healthy amount for promotional items and marketing.
Technology
Make sure to include software such as your registration site and mobile app. These can be expensive, especially as your conference size scales up, so consider whether you really need a mobile app onsite.
Miscellaneous Costs
Miscellaneous costs include anything from gratuities to expense items to your photographer. Think through all the extras that might pop up and allocate a chunk of money here.
Project Management
Project management companies such as GoGather help you streamline your event planning process. If you choose to work with an event agency, make sure to include costs related to their management and onsite staff fees.
Revenue Streams
Income is also important to include in your budget. You can generate money for your conference through sponsorship packages and tickets. Include an outline of these prices as well as an estimate on how many you expect to sell.
Download the sample conference budget template.
To use: select the three dots next to the title of the spreadsheet and click "Export to Excel". Here, you'll be able to edit the sheet for yourself.
Handy Tips for Creating Your Conference Budget
Use the Right Technology
From simple spreadsheets like Microsoft Excel or Google Sheets, to more advanced tools like Smartsheets, choose a technology that will properly aid you in creating and tracking your budget. We recommend using a tool that allows for collaborative editing, so you can see changes from your team in real-time.
Include Contingency Plans
When creating your budget template, it's essential to include contingency plans for unexpected expenses. By having a contingency plan in place, you can avoid scrambling to find funds to cover unexpected expenses.
Analyze Where to Save
It's important to continually analyze areas where you might save and pull levers on different areas of your budget. For instance, analyze your fixed costs versus those based on the number of participants, and see where you might be able to save.
Also, review any potential tax exemptions that can help you save costs down the line.
Here are some additional ways to cut costs on your events while facing inflation.
Update Your Budget Regularly
Your conference budget template is a living document that should be updated regularly. As expenses change or new revenue streams are identified, be sure to update your budget to reflect these changes and track where you're overspending.
Review Your Budget Post-Event
Post-event, make sure to compare your budgeted costs to actual costs and look at areas where you overspent or were able to save. This will help you prepare better for future events.
Sample Conference Budget Template
Leverage this template to create a budget for your next conference.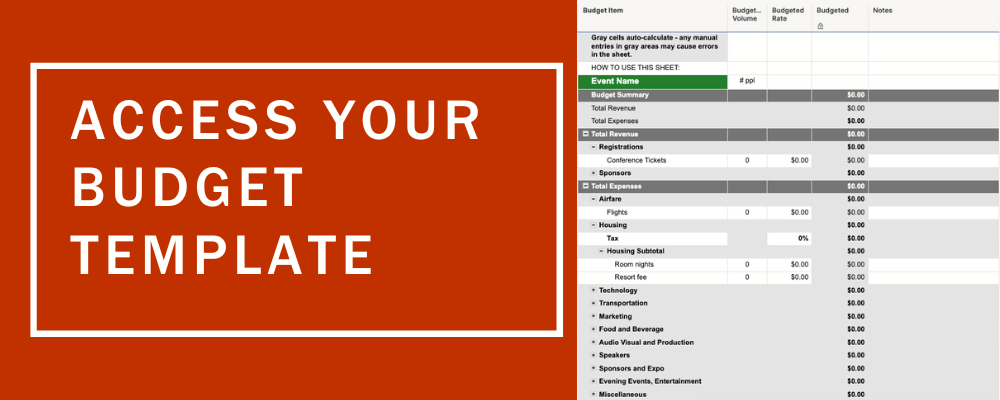 Plan Your Next Conference With GoGather
From building your budget to managing negotiations, GoGather can help make your next conference a success. Let's chat about how we can help you.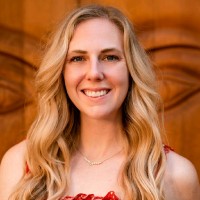 Katie Moser
Katie Moser is the Director of Marketing and Business Development at GoGather. She has an extensive background in creating content and branding for events, working with speakers, and managing agendas for conferences. When she's not updating blog posts and sending out social media posts, she helps clients identify areas of opportunity for their events from branding to communications. In her downtime, she enjoys spending time at one of the many beautiful San Diego beaches, exploring new breweries, or chilling at home with her cat.