Your venue is one of the most important decisions to make when planning your event. But sourcing the venue itself can be a challenge, especially with so many options and budget considerations.
This blog post will provide you with a comprehensive guide to navigate the complex landscape of venue sourcing, ensuring you find the perfect location for your next event while maximizing value, minimizing financial risk, and creating unforgettable experiences for your attendees.
Short Summary
Leverage technology to simplify venue sourcing and create memorable experiences.

Utilize virtual site visits, online marketplaces, automation & negotiation tactics for cost savings.

Prioritize sustainability initiatives in selection process & manage financial risk through budgeting & contract negotiation.
Setting Your Goals and Making Your Ideal List
Before you begin searching for your venue, you should have a clear sense of what your event is, who is attending, what your goals are, and where you want to host the event. Consider things like:
Budget

Attendance size

Number of sleeping rooms you need

Number of event spaces you need

How far out you need to secure your venue (we recommend at least 6 months)

Whether you need to host meetings onsite

What kind of A/V you need

How much travel you want your attendees to deal with

What kind of attractive features you want in your venue (e.g. a cool, modern property, or maybe a 5-star resort)

Where you've held the event in the past
All of these items can help you create a shortlist for the type of venue you want, so you can then begin to search for your ideal space.
The Power of Technology in Venue Sourcing
Technology has revolutionized the way you can source venues, streamlining the process and offering valuable insights at the click of a button. By embracing the strategies below, you can save time and resources while securing the ideal venue for your next event.
Leveraging Virtual Site Visits
Virtual site visits have emerged as a beneficial tool in venue sourcing, allowing you to explore venue space remotely and gain valuable insights without the need for physical presence. By employing virtual reality technology and 3D tours, you can assess various setup options and production aspects within multiple spaces of a venue.
This not only saves time and resources, but also enables you to identify key questions and negotiation points to discuss with the venue's sales team.
(We do still recommend visiting a site in person. You can never get the true feel of a place until you walk through it.)
Utilizing Online Marketplaces
Online marketplaces are digital platforms that streamline the venue-sourcing process by enabling you to find and compare venues based on specific criteria.
This is a good place to start in your venue search, but do note that some marketplaces are limited in their offerings and reviews may be skewed. It's best to use this as an initial research tool and then consult with an experienced event planner to understand all of your venue options.
Embracing Automation
Automation tools have significantly simplified and sped up the venue sourcing process. Some of the benefits include:
Sending electronic requests for proposals (eRFPs)

Managing contracts and communication with venues

Saving time and ensuring accurate data transfer between systems
These automated tools allow for more transparency in the process, but it's also important to consider negotiation strategies to ensure you're getting the best rates.
Negotiation Tactics for Venue Sourcing
Securing the best possible deal for your event venue is a crucial aspect of successful event planning. Effective negotiation tactics, such as understanding pricing models and building trust with venues, can help you achieve favorable rates and terms.
Understanding Pricing Models
To negotiate the best deal for your event, you'll need to understand the different pricing models venues offer, such as flat fees, hourly rates, food and beverage minimums, etc. Each pricing model has its benefits and drawbacks, and you'll want to look at your budget, number of attendees, number of days, and style of event to assess which might be the best.
By comprehending these models and their implications, you can make a more informed decision and negotiate more favorable deals with venues.
Building Trust with Venues
Establishing trust with venues can help secure more flexible terms and creative opportunities, leading to long-lasting partnerships. Meeting in person and being communicative about your event needs and changes can go a long way in establishing trust.
Securing Long-Term Partnerships
Long-term partnerships with venues can result in better terms, rates, and availability. You can consider multi-year contracts with a space to host your event, or consider hosting several events at the same venue in one year.
Maximizing Value in Venue Selection
To maximize value when selecting a venue, you can consider taking advantage of seasonal deals and contemplating multiple events at one location.
Taking Advantage of Seasonal Deals
Seasonal rates can greatly save money on venue costs. By booking venues during off-peak times, you can secure more competitive rates for your events. Just keep in mind that people may not want to travel to very hot areas in the summer (or vice versa in the winter!)
Staying informed about new venue openings and potential special deals can also lead to the discovery of unique and cost-effective venue options.
Considering Multiple Events at One Venue
Holding multiple events at the same venue can lead to better negotiation deals and cost savings on shared expenses such as catering and transportation. By establishing long-term partnerships with venues, you can benefit from more favorable terms and a streamlined planning process for your next event.
In addition, hosting several events at one location can contribute to a consistent and familiar event experience for attendees, which, depending on the types of attendees, can enhance overall satisfaction.
The Importance of Sustainability in Venue Sourcing
Sustainability should be a key consideration in venue sourcing, including evaluating venues' sustainability practices and incorporating sustainable practices into your event planning.
Evaluating a Venue's Sustainability Practices
Assessing a venue's sustainability practices can help you make more environmentally responsible choices when selecting a location for your event. Factors such as waste management, energy efficiency, and water conservation should be considered when evaluating a venue. Be sure to discuss this with the venue while conducting your search.
Incorporating Sustainable Practices into Event Planning
Incorporating sustainable practices into event planning can contribute to a greener event industry and enhance attendee satisfaction. By implementing measures such as using eco-friendly materials, reducing waste, and prioritizing energy efficiency, you can demonstrate your commitment to sustainability and attract like-minded attendees.
From a budget standpoint, sustainable event planning can sometimes lead to cost savings, as eco-friendly practices can result in reduced resource consumption and waste disposal costs.
Tips for Conducting Site Visits
Your site visit is a crucial step in ensuring a smooth event experience.. Thorough preparation and assessing venue accessibility can help you identify potential issues and make informed decisions about venue selection.
Preparing for a Site Visit
Before embarking on a site visit, create a checklist of essential criteria, schedule appointments with venue representatives, and gather necessary information beforehand. Keep a centrally-located list of questions from your team that you can address onsite.
Additionally, discuss expectations and requirements with venue representatives prior to the visit to help streamline the process.
Assessing Venue Accessibility
Evaluating venue accessibility is a critical aspect of conducting a successful site visit. Factors such as transportation options, parking availability, and accommodations for attendees with disabilities should be considered when assessing a venue.
Walking the Space
Make sure to walk the event space as an attendee might. Take note of any confusing layouts, or opportunities for branding or cool expeirences throughout the venue space. Think about what their first impression might be upon arriving at the venue; this may also help you decide between venues if you're still early in the process.
Choosing the Right Location for Your Event
Now that you've sourced multiple properties, you need to select the right one. By analyzing attendee demographics and identifying potential conflicts, you can choose the best location for your event. This involves considering factors such as geographic distribution, travel preferences, and any competing events or local holidays that may impact attendee turnout.
Analyzing Attendee Demographics
Analyzing attendee demographics can help you in the following ways:
Select a location that is convenient and appealing to your target audience

Understand the characteristics and needs of attendees

Ensure that the event is easily accessible and caters to their preferences
This not only enhances the overall event experience but also maximizes attendance, contributing to the success of your event space.
Identifying Potential Conflicts
Identifying potential conflicts, such as competing events or local holidays, is an essential aspect of choosing the right location for your event. By being aware of these factors, you can avoid scheduling issues and maximize attendance. (E.g. be aware of massive events such as Comic Con in San Diego -- you don't want to book your event the same weekend if it means more expensive rates and declining attendance.)
Managing Financial Risk in Venue Sourcing
Managing financial risk in venue sourcing is a critical aspect of successful event planning. By establishing a budget and negotiating contracts that protect the interests of both your company and the venue, you can minimize financial risks.
Establishing a Budget
Creating a budget is a crucial step in managing financial risk when sourcing a venue. By understanding the total cost of the event, including venue rental fees, catering costs, and other associated expenses, you can allocate funds accordingly and make informed decisions about venue selection.
A well-crafted budget also provides a solid foundation for negotiating with venues, ensuring that deals align with financial constraints and minimizing the risk of overspending.
Negotiating Contracts
Negotiating contracts is also an essential step. By addressing key points such as rates, cancellation policies, and liability, you can ensure a fair and mutually beneficial agreement between themselves and the venue.
We recommend working with a professional to negotiate and secure your contract, so you can be sure you're getting the best terms.
Summary
Strategic venue sourcing requires a combination of technological prowess, effective negotiation tactics, and a focus on your attendees' experience. By embracing new tools and leveraging your event manager's experience, you can secure the right venue for their next event while maximizing value and minimizing financial risk.
Frequently Asked Questions
What is the meaning of venue sourcing?
Venue sourcing is the process of locating, negotiating, and booking venues for an upcoming event.
What are the steps in selecting a venue?
Selecting a venue for an event involves analyzing the event needs, investigating potential venues, making site visits, agreeing on price and terms, booking and confirming, and making further site visits to check if all details are in order.
This process requires careful consideration and research to ensure that the venue is suitable for the event and that all necessary arrangements are in place. It is important to consider the size of the venue, the amenities available, the cost, and the location.
What are the benefits of using virtual site visits in venue sourcing?
Virtual site visits offer the advantages of cost and time savings, allowing event planners to explore potential venues and make informed decisions without having to be physically present.
This can be a great way to save money and time when planning an event. It also allows planners to get a better sense of the venue before committing to it.
How can online marketplaces help event planners find the perfect venue?
Online marketplaces simplify the search for your venue by allowing event planners to compare venues based on desired criteria, ensuring a faster and more effective search.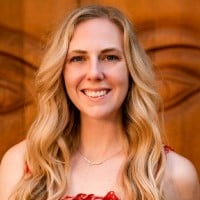 Katie Moser
Katie Moser is the Director of Marketing and Business Development at GoGather. She has an extensive background in creating content and branding for events, working with speakers, and managing agendas for conferences. When she's not updating blog posts and sending out social media posts, she helps clients identify areas of opportunity for their events from branding to communications. In her downtime, she enjoys spending time at one of the many beautiful San Diego beaches, exploring new breweries, or chilling at home with her cat.