Make planning your next corporate retreat even easier with an all-inclusive resort. We love finding ways to make planning more streamlined for our clients, and all-inclusives offer just that.
This article will walk you through our top picks for all-inclusive properties, grouped by region, so you can choose the best property for your next corporate retreat.
Our top locations for all-inclusive retreats include:
Short Summary
All-inclusive corporate retreats provide comprehensive packages that simplify planning and create an environment for team building.

Unique activities such as adventure, wellness programs, and skill workshops can be tailored to the interests of the team.

Tips for successful all-inclusive corporate retreats include setting objectives & goals, selecting a suitable location, and customizing the agenda.
Top All-Inclusive Corporate Retreat Locations
With a diverse range of all-inclusive corporate retreat locations to choose from, there's a perfect destination for every team's preferences and needs.
Whether you're looking for a serene mountain retreat, a rejuvenating beachside escape, or a bustling urban oasis, our curated list of top 30 retreat locations has you covered.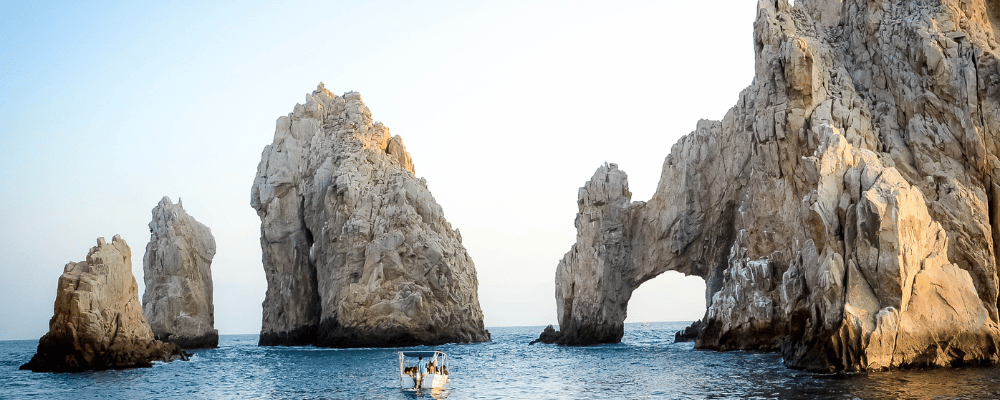 Cabo All-Inclusive
Cabo San Lucas offers an ideal destination for group travel. Whether it's savoring local delicacies or unwinding with a beachfront massage, Cabo's all-inclusive resorts promise an oasis for any group seeking a memorable getaway.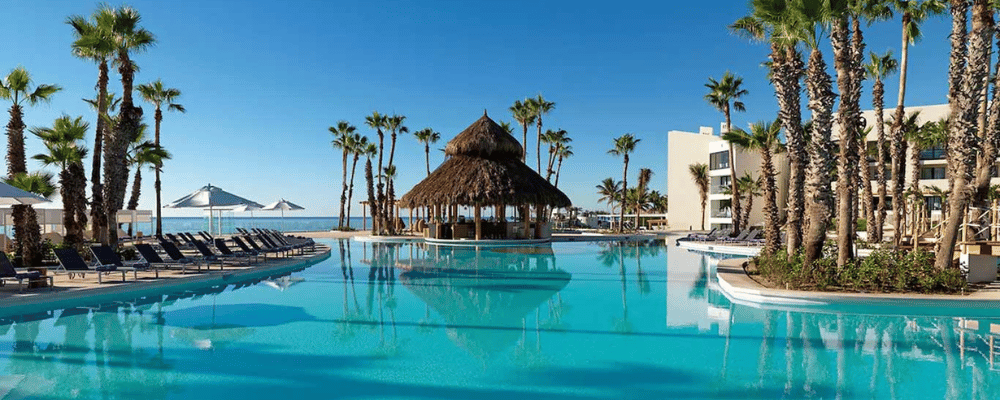 Paradisus Los Cabos
Paradisus Los Cabos is a luxurious all-inclusive resort that boasts a prime location along the sparkling waters of the Sea of Cortez. The property features elegant and spacious suites, breathtaking views, and direct access to a pristine beach.
Guests can indulge in a variety of activities, including water sports, golf, tennis, and yoga, or simply unwind by the multiple pools or in the tranquil spa. With a reputation for exceptional service and attention to detail, Paradisus Los Cabos promises an unforgettable vacation experience.
Grand Velas Los Cabos
Grand Velas Los Cabos is a world-class, all-inclusive resort in Cabo. This luxurious property sets the bar high with its stunning contemporary design, elegant suites, and breathtaking oceanfront views. The resort also offers an exceptional culinary experience with its award-winning restaurants.
From lounging by the pristine infinity pools and private beach to partaking in water sports, fitness classes, and wellness rituals, guests will never get bored. Grand Velas Los Cabos prides itself on its warm hospitality and personalized service.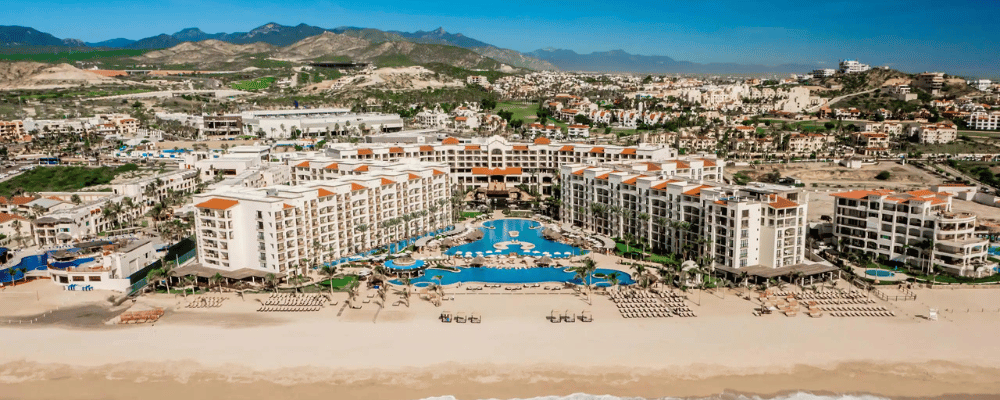 Hyatt Ziva Los Cabos
Hyatt Ziva Los Cabos offers an array of amenities and activities for guests. The resort features spacious and elegantly appointed rooms and suites, many with incredible views of the Sea of Cortez. With a focus on gastronomic delights, Hyatt Ziva Los Cabos boasts a diverse selection of dining options, including international cuisines and authentic Mexican dishes.
The resort's expansive pools provide ample opportunities for relaxation and fun. Guests can also enjoy a wide range of activities, from water sports and beachfront yoga to evening entertainment and vibrant nightlife.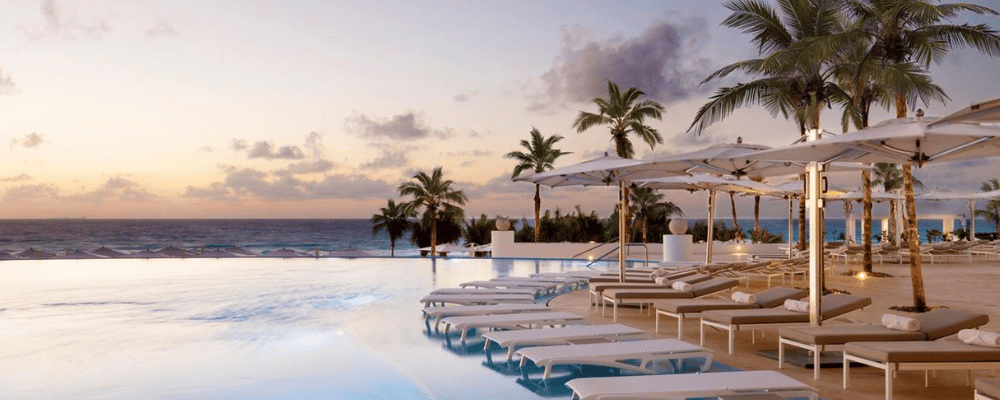 Le Blanc Spa Resort Los Cabos
Le Blanc Spa Resort Los Cabos is a luxurious and adults-only all-inclusive resort renowned for its elegance and sophistication. The property features stunning contemporary design and well-appointed suites, many with private plunge pools and ocean views.
The resort's spa is a haven of relaxation, providing a wide range of indulgent treatments and wellness experiences. Guests can bask in the sun at the pristine infinity pools, sip cocktails on the beach, or partake in water sports and other activities.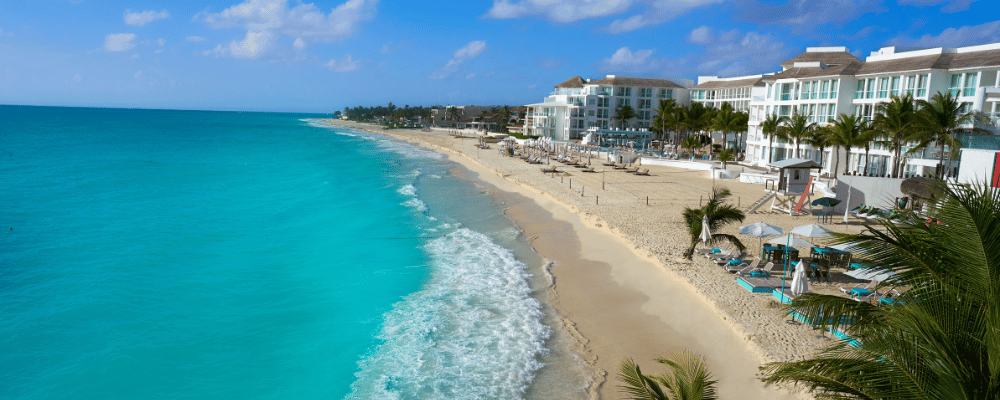 Playa del Carmen All-Inclusive
Playa del Carmen, located on the shores of the Riviera Maya, is an idyllic destination for group travel, and its all-inclusive resorts provide an enchanting experience for everyone. These resorts offer a perfect blend of sun-kissed beaches, turquoise waters, and nearby historical and cultural landmarks, making them an ideal choice for groups.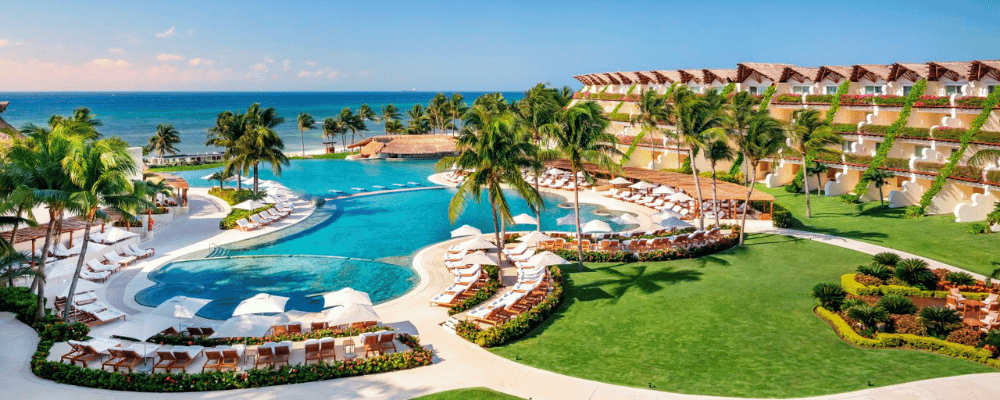 Grand Velas Riviera Maya
Grand Velas Riviera Maya is set amidst lush tropical landscapes and overlooking the turquoise Caribbean Sea, the resort offers an unparalleled setting for relaxation and indulgence. The resort's spacious suites are elegantly designed, with private terraces or plunge pools and modern amenities.
Dining at Grand Velas Riviera Maya is a gastronomic journey with an impressive selection of gourmet restaurants, including Michelin-starred Chef creations and a variety of international cuisines. Guests can enjoy water sports, fitness classes, cultural experiences, and onsite entertainment.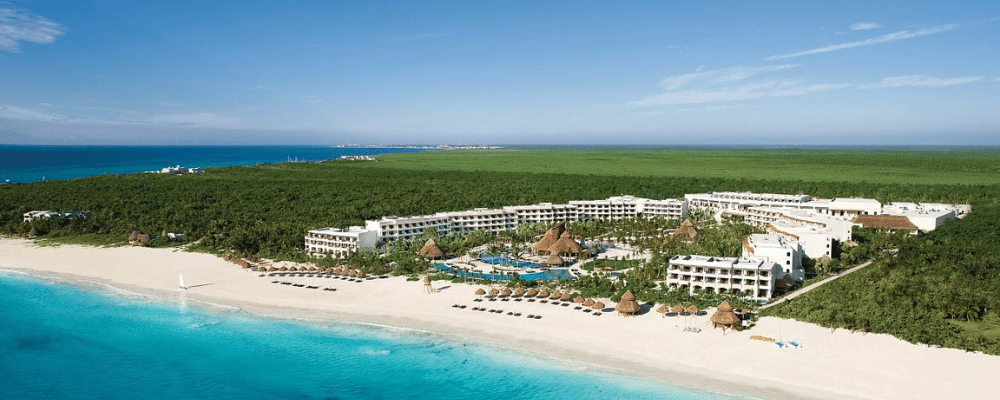 Secrets Maroma Beach
Secrets Maroma Beach is an exquisite all-inclusive resort nestled along the pristine shores of Maroma Beach, regarded as one of the world's most beautiful beaches.
Guests can participate in a variety of activities, from water sports and beachfront yoga to cultural experiences and live music. They can also enjoy discounted golf rates, partake in excursions to the Riviera Maya, or relax in the resort's world-class spa.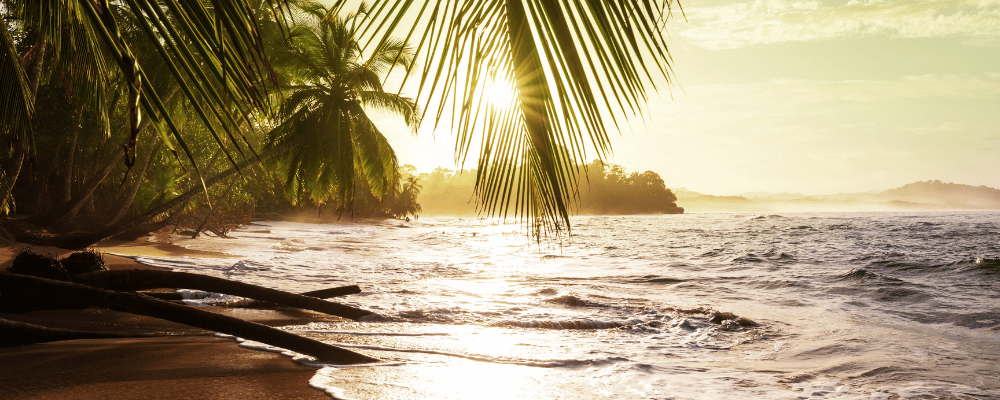 Costa Rica All-Inclusive
Costa Rica, with its lush rainforests, stunning beaches, and rich biodiversity, offers an enchanting backdrop for group travel. All-inclusive packages typically include exciting activities such as nature tours, wildlife encounters, water sports, and cultural excursions, ensuring there's something for everyone to enjoy.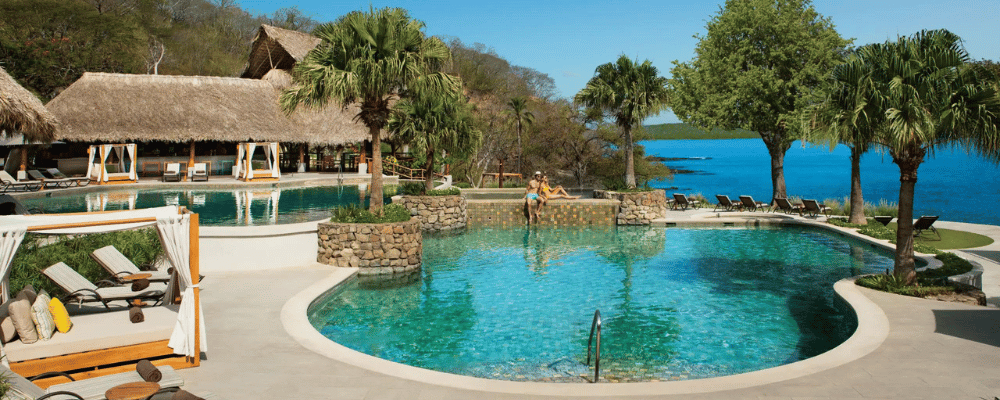 Secrets Papagayo
Secrets Papagayo is an all-inclusive resort situated on the stunning Papagayo Peninsula in Costa Rica. The resort features elegantly appointed suites, some with private plunge pools or direct swim-out access, all designed with modern comforts and picturesque views.
Secrets Papagayo offers excursions including horseback riding, canopy tours, and hiking. There are also tons of adventurous activities such as ATVs, mountain biking, water sports, and scuba diving. With its breathtaking setting and attentive service, Secrets Papagayo ensures an unforgettable all-inclusive experience.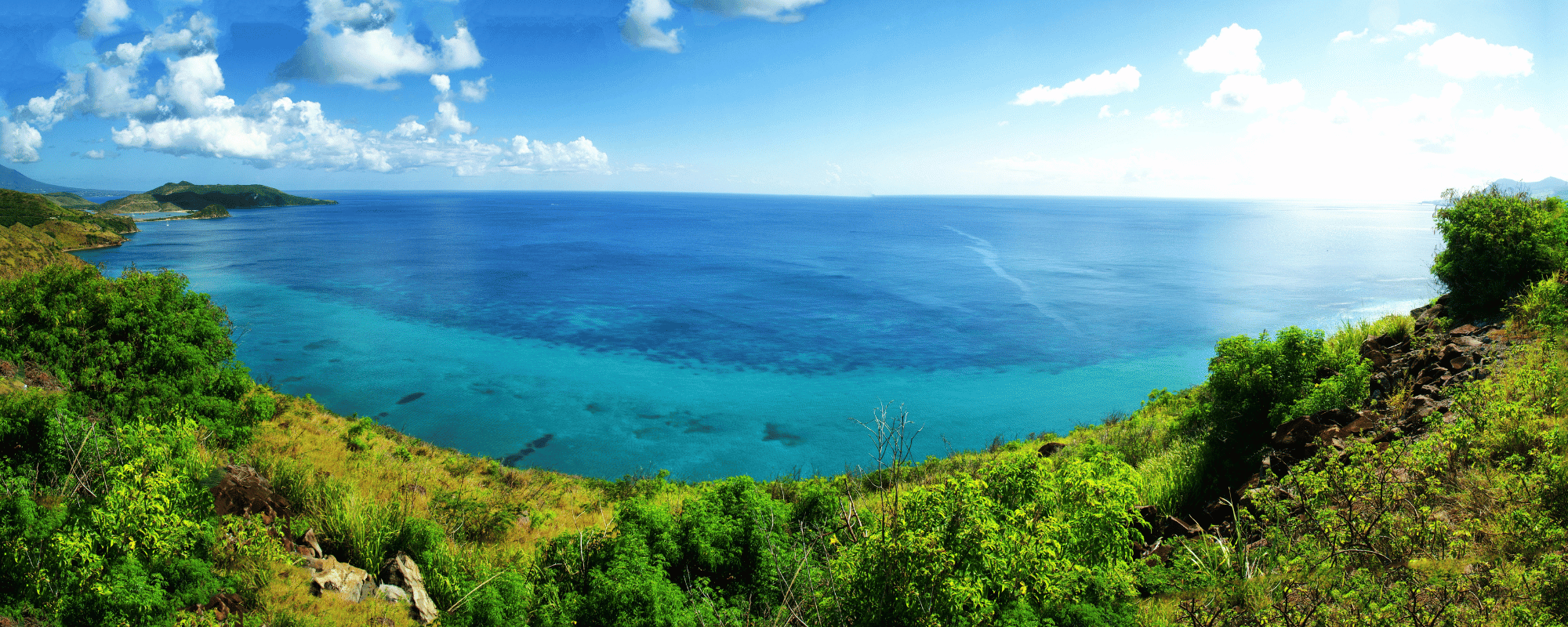 Caribbean All-Inclusive
The Caribbean is a dream destination for group travel, and its all-inclusive resorts offer an exceptional experience for everyone. With their beautiful beaches, crystal-clear waters, and warm hospitality, all-inclusive resorts in the Caribbean promise an unforgettable group getaway.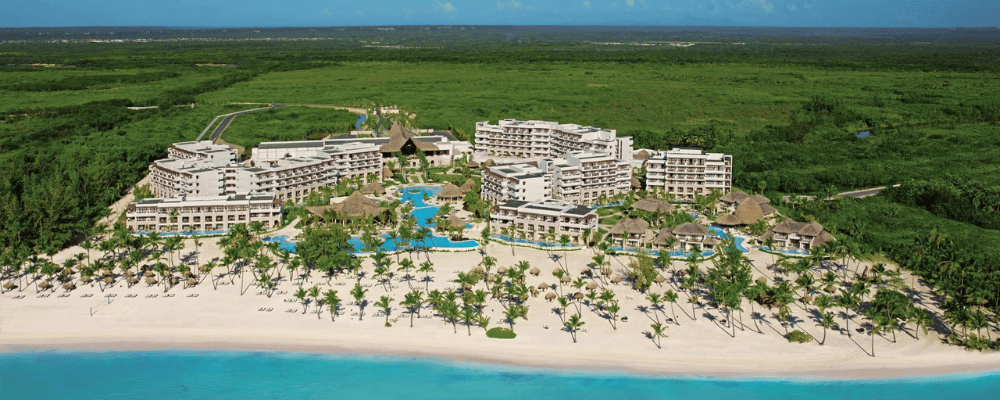 Secrets Cap Cana
Secrets Cap Cana is located in the exclusive community of Cap Cana in the Dominican Republic. Nestled along the pristine shores of Juanillo Beach, the resort is breathtaking luxury with endless blue water.
Secrets Cap Cana boasts an array of gourmet restaurants, serving a variety of international cuisines and indulgent dishes. Guests can take tours out to Punta Cana, enjoy bike tours or painting classes, take dance lessons, or enjoy relaxing at the spa.
Sugar Beach St. Lucia
Sugar Beach, A Viceroy Resort, is a luxurious and enchanting retreat located on the breathtaking island of St. Lucia in the Caribbean. The resort features elegantly designed villas and bungalows, some with private plunge pools and stunning views of the Pitons, a UNESCO World Heritage Site.
Sugar Beach offers an array of activities, from water sports like sailing, kayaking, and snorkeling to hiking in the rainforest and relaxing on the private white sand beach.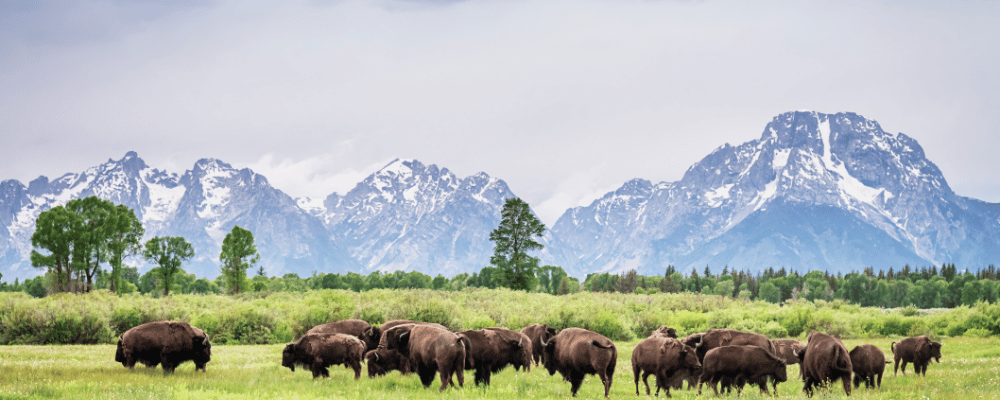 United States All-Inclusive
All-inclusive resorts for group travel in the United States offer an enticing option for corporate groups. These resorts can be found in various picturesque locations, from sun-soaked beaches to majestic mountain retreats.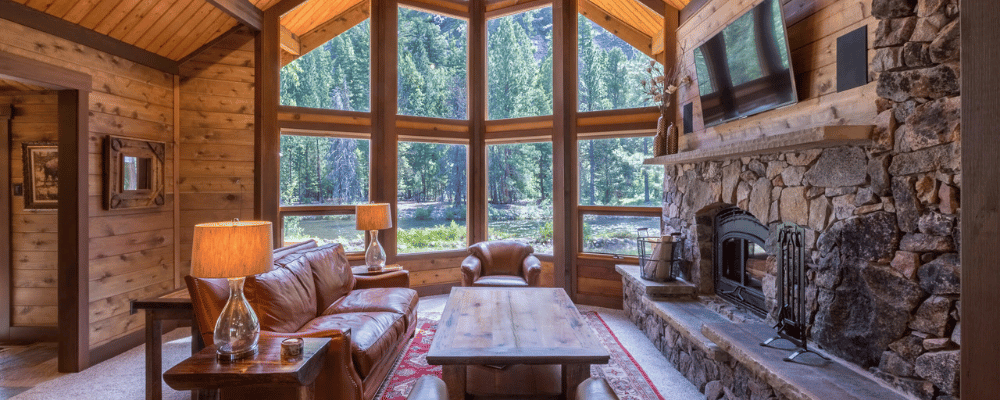 Triple Creek Ranch - A GoGather Favorite
Triple Creek Ranch is a luxurious and award-winning guest ranch nestled amidst the breathtaking beauty of the Bitterroot Mountain Range in Darby, Montana. This exclusive resort offers a tranquil and intimate escape for discerning travelers seeking a blend of wilderness adventure and unmatched comfort.
The ranch features a collection of elegantly appointed cabins, each with rustic charm and modern amenities. Guests can partake in a variety of outdoor activities, including horseback riding, skiing, hiking, and guided wildlife excursions.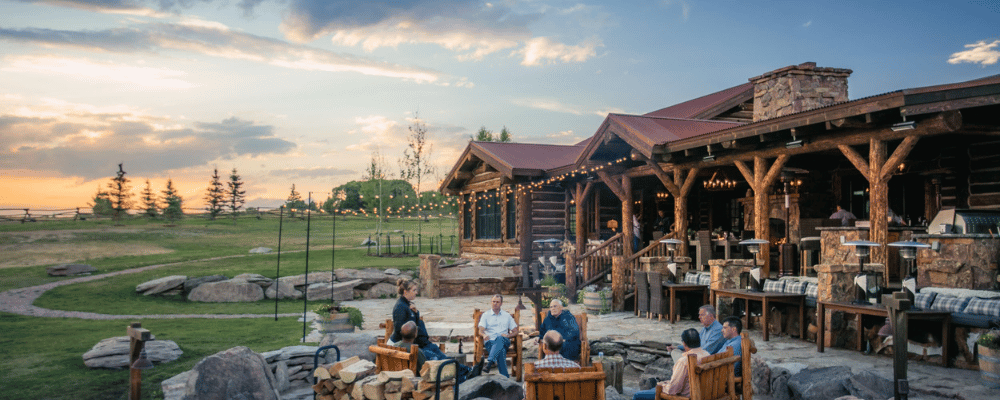 Brush Creek Ranch
Brush Creek Ranch is a luxurious and expansive guest ranch nestled in the stunning Platte River Valley of Saratoga, Wyoming. This premier western resort offers an unmatched blend of rugged adventure and refined comfort.
The ranch features a collection of beautifully appointed cabins and lodges, providing a true taste of Western hospitality. Activities include horseback riding, fly-fishing, archery, hiking, and more.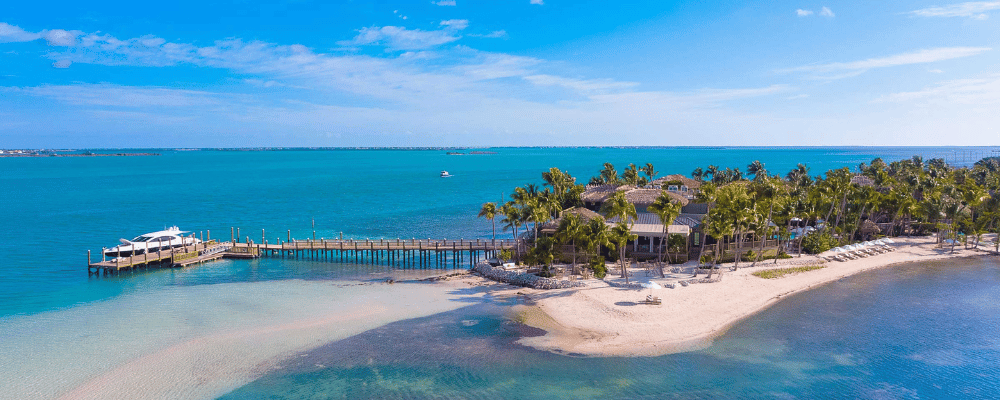 Little Palm Island Resort
For a beach escape stateside, look no further than Little Palm Island Resort. Located in the Florida Keys, this resort offers a private island escape for those looking for an extra special retreat.
From a seaplane arrival to adventurous activities, there's no shortage of wow with Little Palm Island. Guests can partake in activities like fishing, scuba diving, dolphin encounters, and eco-tours.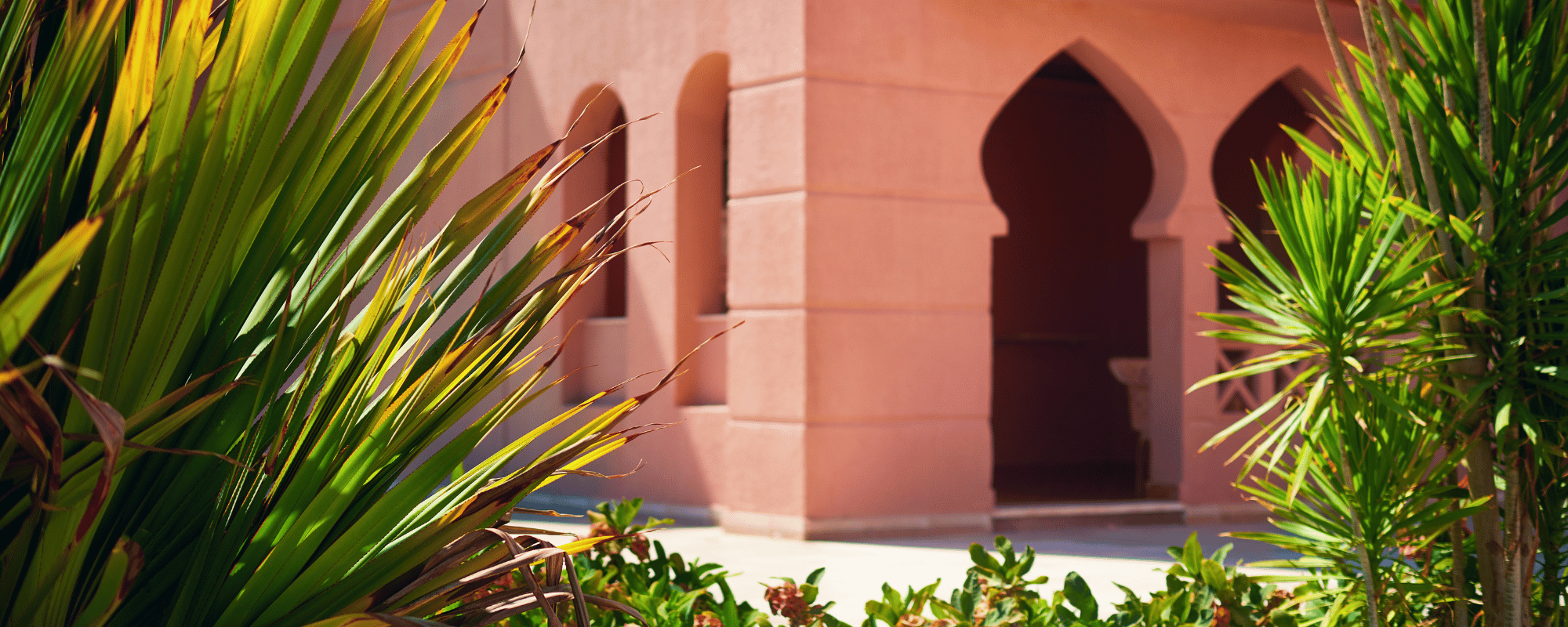 The Benefits of All-Inclusive Corporate Retreats
Corporate retreats are a strategic investment in your team's growth and success. An all-inclusive resort can improve the planning process for your retreat in several ways:
Simplified Planning and Logistics: All-inclusive retreats make planning easier by consolidating accommodations, meals, and activities into one package. Many properties provide meeting spaces, business centers, and custom team-building activities, all in one location. No need to worry about coordinating hotels, transportation, activities, or event spaces – your corporate retreat package handles it all.

Enhanced Team Building and Collaboration: All-inclusive resorts also create a conducive environment for team building and collaboration. They provide a range of activities, so you don't have to source and plan them yourself. Imagine your team bonding over cooking classes, horseback riding, snorkeling, or skiing, without the headache of finding these activities and arranging transportation.

Cost-Efficiency and Budget Control: All-inclusive company retreats also reduce your budgeting burden by offering a comprehensive package that covers accommodations, meals, and activities. This means you don't have to worry about separate logistical arrangements or staying within budget with things like food & beverage.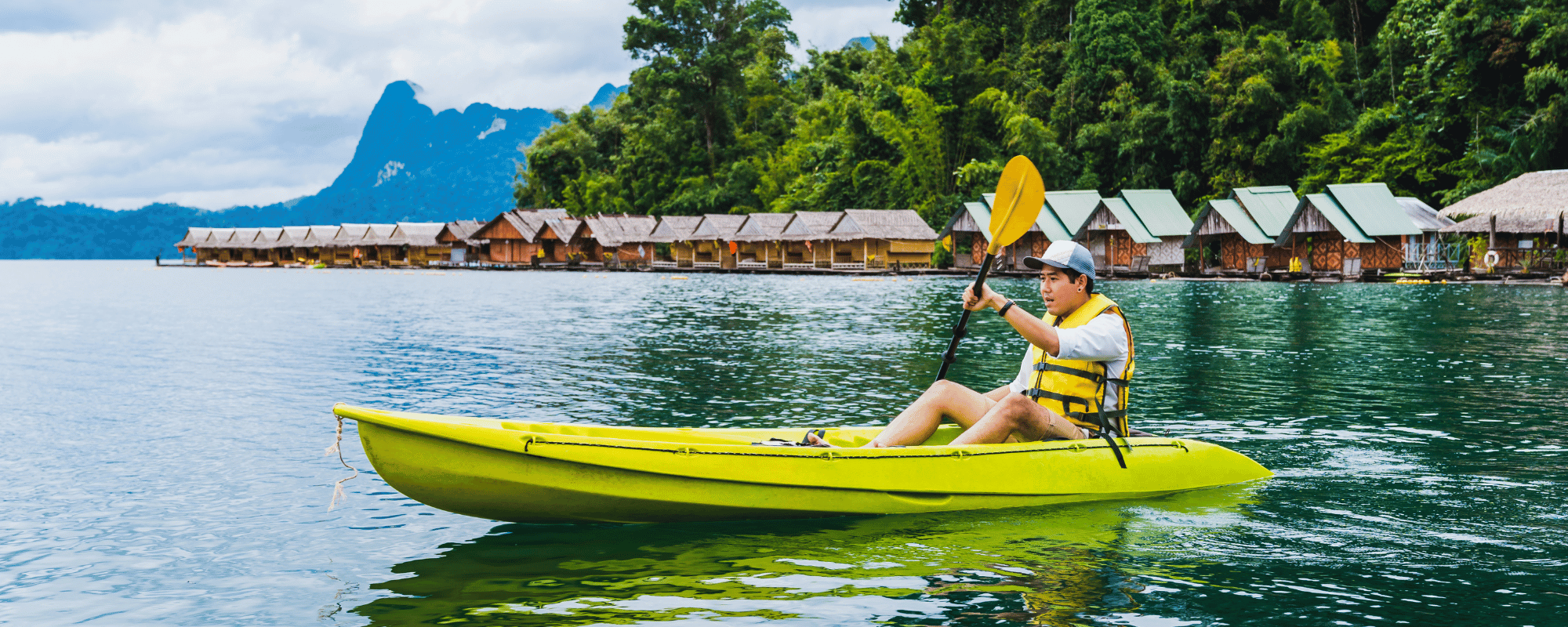 Unique Activities and Experiences Available at All-Inclusive Resorts
All-inclusive corporate retreats can be customized to include a diverse range of unique activities and experiences that cater to your team's interests and objectives.
Consider incorporating adventure activities like zip-lining and rafting, wellness programs such as yoga and meditation, and skill-building workshops focused on leadership, communication, and problem-solving.
Adventure Activities
Adventure activities like zip-lining, rafting, and team-building challenges can help foster teamwork and camaraderie among employees. Most of these hotels offer a variety of adventure activities, including horseback riding, ziplining, archery, scuba diving, and kayaking.
Wellness Programs
Wellness programs, including yoga, meditation, and spa treatments, can promote relaxation and rejuvenation during corporate retreats. Your all-inclusive venue will likely offer fitness classes, yoga sessions, and general wellness classes.
Cultural Experiences
Many of these resorts offer cultural experiences such as cooking classes, wine tastings, art classes, or other experiences to help your attendees get a taste of the local culture. Consider incorporating these opportunities into your schedule to make attendees feel like they are getting a well-rounded experience during your retreat.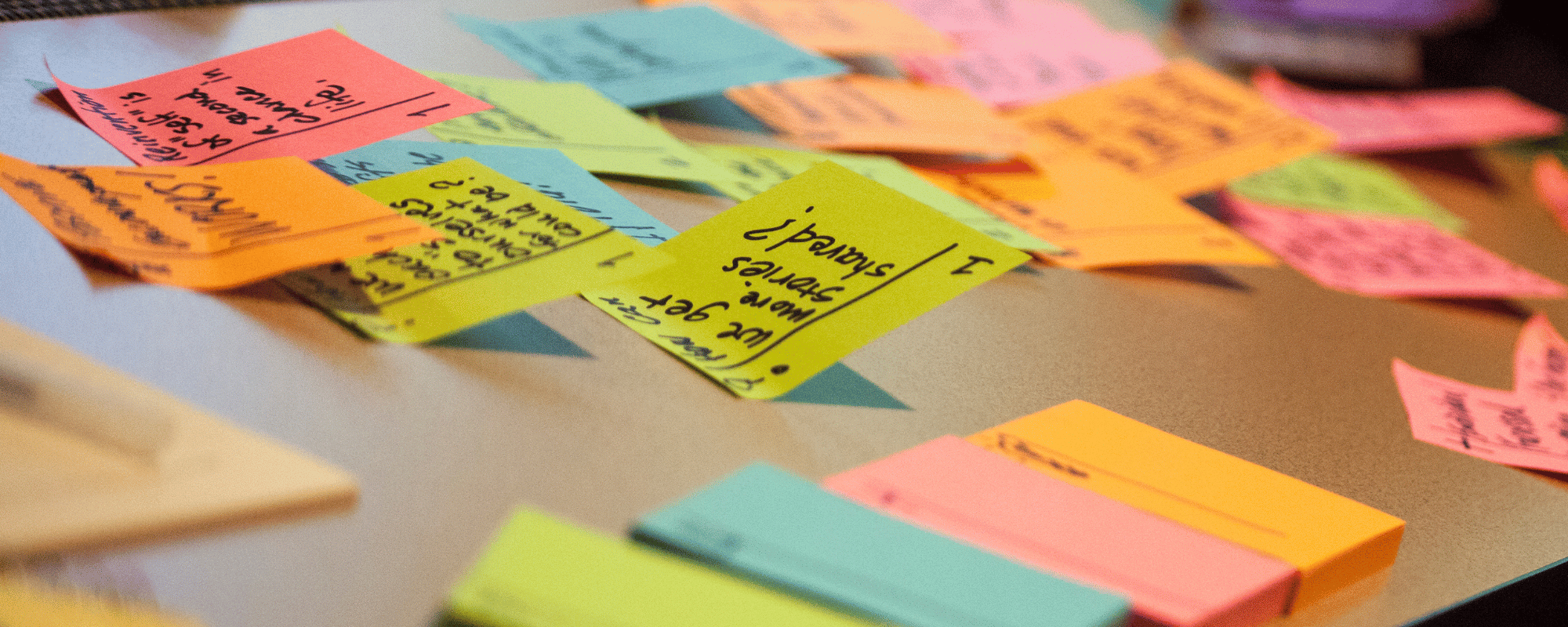 Tips for Planning a Successful All-Inclusive Corporate Retreat
Organizing a memorable and effective all-inclusive corporate retreat requires attention to detail, clear objectives, and a well-crafted agenda. From selecting the perfect location to customizing the agenda, every aspect of the retreat should be tailored to your team's unique needs and preferences.
Setting Objectives and Goals
Establishing clear objectives and goals for your corporate retreat is crucial to ensuring a focused and productive event. These objectives should be aligned with your company's overall goals and tailored to address specific challenges or opportunities faced by your team.
Before planning your retreat, take the time to identify the key outcomes you hope to achieve, whether it's improving communication, fostering teamwork, or planning for the year ahead.
Selecting the Right Location
Choosing the right location for your corporate retreat is essential to create the desired atmosphere and provide the necessary amenities and activities for a successful event. Consider factors such as the size of your team, the nature of your objectives, and the preferred ambiance when selecting a retreat location.
Research the local area to ensure there are sufficient attractions and activities to keep your team engaged and entertained. Whether you opt for a mountain retreat, beachside escape, or urban oasis, the right location can make all the difference in the success of your corporate retreat.
Customizing the Agenda
A tailored agenda is key to creating a memorable and impactful retreat experience for your team. By customizing the agenda to suit the unique needs and preferences of your team, you can ensure that each activity and workshop is relevant and engaging.
Incorporate a mix of team-building activities, skill-building workshops, and leisure time to create a balanced and holistic retreat experience.
Create Your All-Inclusive Retreat with GoGather
All-inclusive corporate retreats offer a strategic investment in your team's growth and success. With simplified planning, enhanced team building, cost-efficiency, and a diverse range of locations and activities, these retreats provide the ideal environment for fostering collaboration, creativity, and camaraderie.
Let's brainstorm how GoGather can help you create an incredible all-inclusive retreat that meets your goals and wows your employees.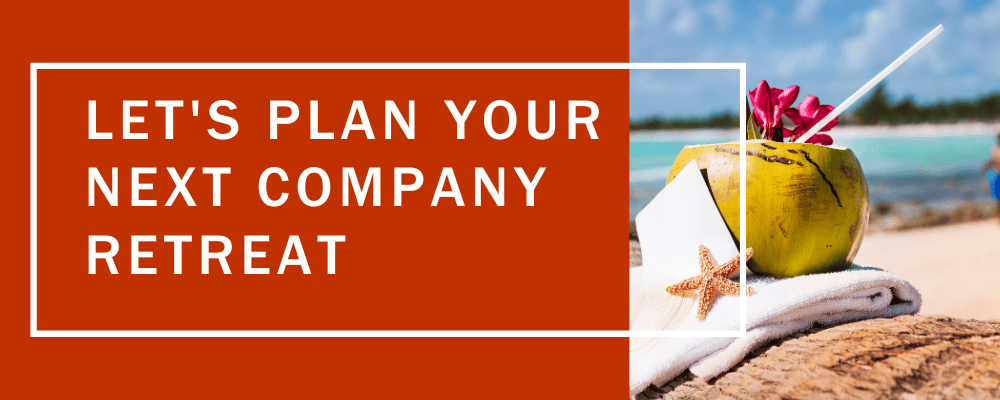 Frequently Asked Questions
What are the key benefits of all-inclusive corporate retreats?
The benefits of all-inclusive corporate retreats are: a simplified planning process, improved team-building activities, and cost-efficiency, making them an ideal choice for businesses.
How can adventure activities promote teamwork and camaraderie?
Adventure activities can promote teamwork and camaraderie by challenging team members to step out of their comfort zones, build trust, and work together.
These activities can help foster a sense of unity and collaboration, as well as provide an opportunity for team members to learn more about each other and build relationships.
What role do wellness programs play in corporate retreats?
Wellness programs help create a relaxed and productive environment during corporate retreats, providing the team with opportunities for relaxation, rejuvenation, and overall well-being.
These programs can include activities such as yoga, meditation, massage, and outdoor activities. They can also include workshops on topics such as stress management, nutrition, and team building.
How can skill-building workshops improve employee performance?
Skill-building workshops can enable employees to develop new skills, foster higher productivity and strengthen team collaboration, ultimately leading to improved performance.
These workshops can help employees become more confident in their abilities, better understand their roles, and become more engaged in their work. They can also help to create a more positive work environment, as employees feel more supported.
What factors should be considered when selecting the ideal location for a corporate retreat?
When deciding the perfect location for a corporate retreat, factors such as team size, purpose of the gathering, atmosphere desired, budget constraints, and proximity to amenities should all be taken into account.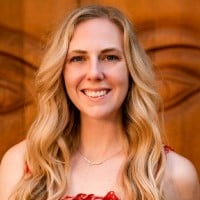 Katie Moser
Katie Moser is the Director of Marketing and Business Development at GoGather. She has an extensive background in creating content and branding for events, working with speakers, and managing agendas for conferences. When she's not updating blog posts and sending out social media posts, she helps clients identify areas of opportunity for their events from branding to communications. In her downtime, she enjoys spending time at one of the many beautiful San Diego beaches, exploring new breweries, or chilling at home with her cat.