Are you looking for ways to energize and motivate your sales team in the upcoming year?
National sales meetings are a crucial platform to align your sales force, set ambitious goals, and foster a sense of unity among team members.
In this blog post, we'll explore creative meeting ideas, effective planning strategies, and innovative themes to help you make the most of your national sales meeting and propel your team toward success.
Short Summary
Align sales teams, set goals, and foster unity with national sales meetings.

Carefully plan events to maximize attendance and engagement. Consider location, agenda & technology.

Measure the success of your meeting through KPIs & attendee feedback for future optimization.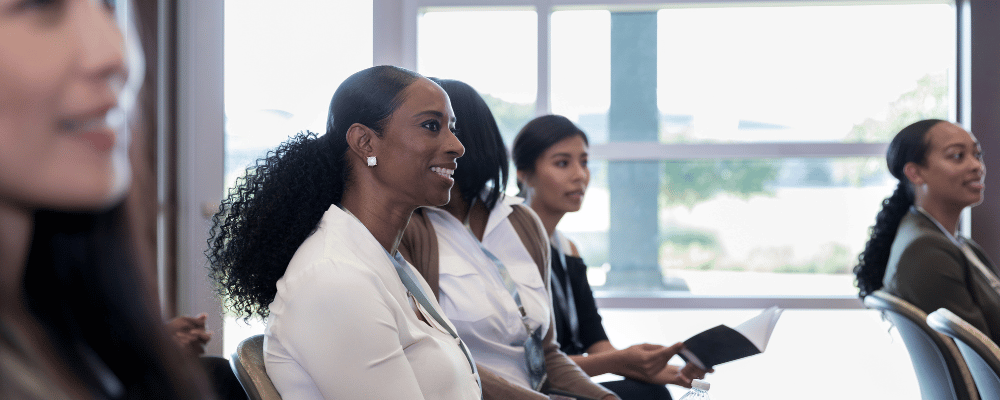 The Importance of National Sales Meetings
National sales meetings are an opportunity for sales teams to come together, share ideas, and learn from one another. They are a critical component in ensuring the success of any sales organization.
But why are these meetings so important? One reason is that they help prepare teams for the next sales year or quarter, ensuring they are equipped with the knowledge and strategies needed to excel.
They also serve several key purposes: aligning sales teams, setting goals, and fostering unity. By incorporating these elements into your sales meeting agenda, you can create a powerful and motivating experience for your sales reps.
Aligning Sales Teams
One of the primary objectives of a national sales meeting is to align your sales team members around common goals and objectives.
This alignment ensures that everyone is working towards the same targets, increasing your chances of success. Establishing a consistent sales process during these meetings helps everyone get on the same page and see a clear direction for their efforts.
In addition to defining goals and objectives, national sales meetings can also serve as a platform for empowering your sales team with valuable skills and knowledge. Through engaging training sessions and peer-to-peer learning sessions, you can keep your team motivated and equipped with the tools they need to excel.
Setting Goals
Goal-setting is an integral part of any national sales meeting.
By defining clear objectives and targets for your sales team, you provide a roadmap for success and motivate your team members to reach their full potential.
At an annual sales meeting, setting goals is highly valuable. It helps to instill a positive and motivated mindset in everyone that will make the upcoming year successful.
Discussing financial goals during sales meetings can help keep your team focused on what matters most: achieving results and generating revenue.
Fostering Unity
Fostering unity among team members is crucial for successful national sales meetings.
Unity encourages collaboration, knowledge sharing, and a sense of camaraderie, all of which contribute to a more productive and motivated sales force. Networking sessions, small breakout room discussions, happy hours, and team-building games are all great ways to bring your team together during national sales meetings.
By connecting with sales managers and managers from other teams, particularly Product, Marketing, Customer Success, and Support, sales reps can build relationships, gain valuable insights, and enhance their sales skills.
Plus, cultivating collaboration among sales team members is essential for success. During national sales meetings, this can be achieved by emphasizing the importance of teamwork and establishing processes to support the sharing of ideas and best practices. Your sales leaders will play a crucial role in fostering a collaborative environment.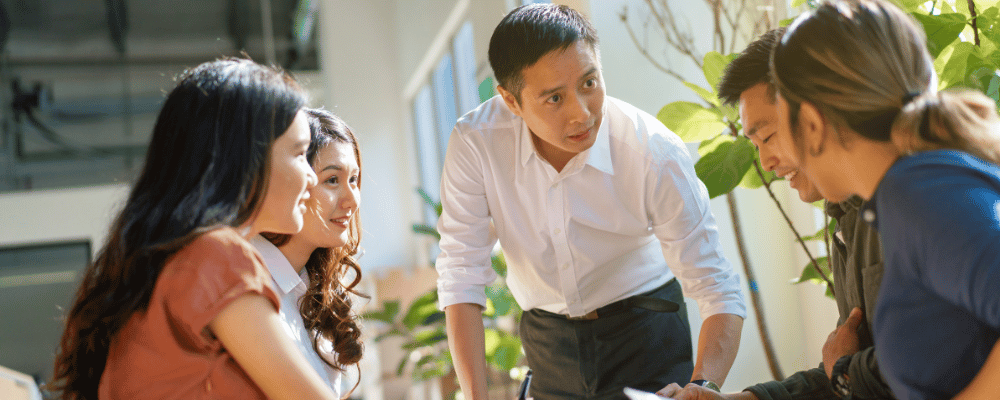 Planning an Effective National Sales Meeting
Many things go into planning a successful national sales meeting, including selecting the right location, creating a comprehensive agenda, and ensuring attendee engagement.
By following best practices and incorporating valuable input from your sales team members, you can create a motivating experience that drives success.
In addition to planning the logistics of the meeting, it's important to choose a theme and keynote speaker that will resonate with your team and align with your company's mission and values. Incorporating your company branding into the meeting can also help reinforce the meeting's theme and message, creating a cohesive and memorable experience for attendees.
To keep the agenda on track and the meeting details concise, consider limiting the number of speakers, using visuals to keep everyone engaged, and providing breaks throughout the day.
Selecting the Right Location
Choosing the right location for your national sales meeting is crucial for maximizing attendance and ensuring a productive and comfortable environment for your team members.
Consider factors such as the number of airplane connections required for the majority of salespeople to reach the meeting, potential weather-related issues, and the overall time, effort, and cost involved in getting all attendees to the location.
If you have a headquarters, it may be effective to host your meeting there. If not, try to find a location that is close to the majority of your reps, or a halfway point for them.
When selecting the venue, think through how many meeting spaces you might need. Will some teams need smaller breakout rooms? You may also want to consider a few individual spaces for sales reps to take calls; after all, sales don't stop for internal meetings.
Consulting with meeting planners can provide valuable insights into the types of spaces that are in demand, helping you make an informed decision.
Creating a Comprehensive Agenda
A well-crafted agenda is essential.
Keep your team engaged throughout the event by creating a comprehensive agenda that covers all relevant topics and includes a mix of presentations, workshops, and team-building activities.
When developing your agenda, focus on key objectives and prioritize important topics that support the goals you set before planning.
Topics can include sharing updates on the pipeline, exploring organizational insights, and reviewing competitive analysis.
Be sure to also incorporate opportunities for celebrating big wins. An evening event can be a great time to host an awards ceremony.
Ensuring Attendee Engagement
Attendee engagement is crucial at a national sales meeting. This is the time for you to get your team excited about the year ahead and focused on their goals.
The world has changed in the last few years, and people are not able to sit through long presentations anymore - it's simply not as effective. Think through ways you can shorten your presentations, get people moving, and encourage participation. It may be as simple as offering movement breaks throughout presentations.
Including a variety of session types, such as deep dives into product specifications, sales Jeopardy!, gamified cold calls, and peer knowledge sharing, can also help keep your sales meetings exciting and engaging.
You can also keep attendees engaged through interactive games and activities, such as role-playing exercises, team polls, and icebreakers.
Another way to engage your salespeople is to give them time for one-on-one sessions. This can be especially beneficial for new salespeople, as they can network and learn from more senior professionals.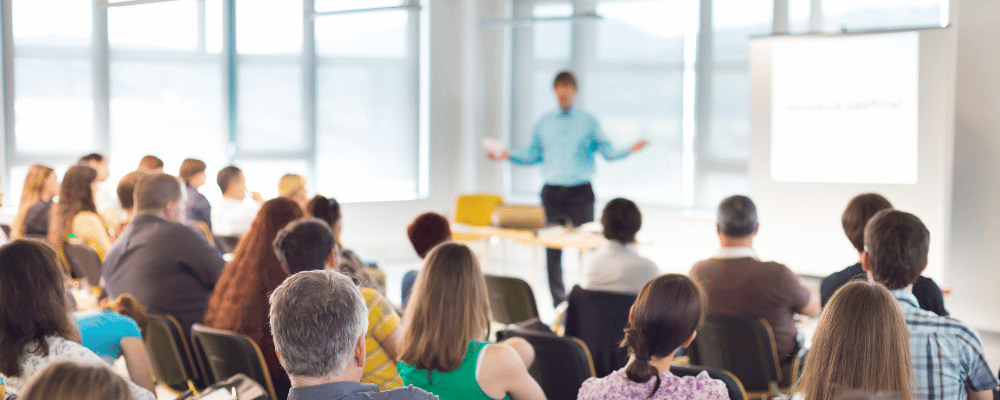 Creative National Sales Meeting Themes
Themes can help drive a more successful national sales meeting by creating cohesion across your event and also providing a vision for the year. Let's take a look at some theme ideas to incorporate into your next national meeting.
Motivational Themes
Motivational themes can help build excitement and enthusiasm for upcoming sales goals and initiatives.
Examples of motivational themes include "Achieving Excellence", "Unlock Your Potential", and "The Power of Possibility".
You can opt for a simpler one-word theme as well, such as "Drive", "Success", or "Win". They may seem basic, but you can craft content around these ideas and that singular word will help drive focus for your sales reps.
Growth Themes
Growth themes can encourage personal and professional development among your sales team members. These themes focus on continuous learning and improvement.
Some examples of growth themes include "Innovate", "Embrace Change", "Excellence", and even something simple like "Growth". These themes don't have to be particularly complicated; choose something that gets your vision across simply.
Team-Building Themes
Team-building themes can strengthen relationships and collaboration within your sales team. These themes help you incorporate team-building activities and ideas into your national sales meeting.
Theme ideas include "Build", "Unite", "Cohesion", etc. Again, these are meant to focus your content topics and align your team behind one vision.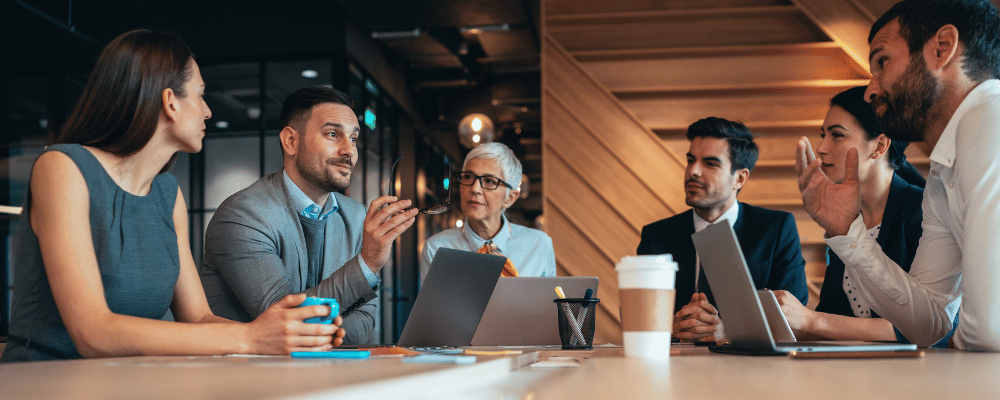 Measuring National Sales Meeting Success
Measuring the success of your national sales meeting is essential for evaluating the impact of the event on your team's performance and identifying areas for improvement.
By tracking KPIs and gathering attendee feedback, you can gain valuable insights into the effectiveness of your meeting and use this information to optimize future events.
By tracking key performance indicators (KPIs) and gathering attendee feedback, you can improve for next year's event.
Tracking KPIs
Monitoring key performance indicators (KPIs), such as sales growth and customer satisfaction, can help you assess the impact of your national sales meeting on your team's performance.
Some KPIs to measure for your national sales meeting include:
Sales growth through the year

Team collaboration

Employee retention

Customer retention

Qualitative factors such as attendee feedback
KPIs can provide valuable insights into the effectiveness of your sales meeting and help you identify areas of improvement.
Gathering Attendee Feedback
Gathering feedback from attendees is invaluable for identifying areas for improvement and informing future meeting planning.
By conducting post-event surveys, asking open-ended questions, and holding follow-up meetings or debrief sessions to discuss feedback and suggestions, you can gain valuable insights into the success of your national sales meeting.
Use this information to optimize future events and ensure that your meetings are as successful as possible.
Summary
National sales meetings are critical to the success of any sales organization.
By focusing on aligning your sales team, setting ambitious goals, fostering unity, and incorporating creative themes and activities, you can create a powerful and motivating experience that drives your team toward success.
Remember to measure the impact of your meeting through tracking KPIs and gathering attendee feedback, ensuring continuous improvement for future events.
With careful planning, innovative ideas, and a commitment to excellence, your national sales meeting can propel your sales team to new heights in the upcoming year.
Let's discuss how GoGather can help you plan a successful national sales meeting in 2024.
Frequently Asked Questions
What is a national sales meeting?
A national sales meeting is an annual event that gives organizations the opportunity to develop and strengthen relationships across their business units, particularly sales. It's a chance for sales representatives from different geographic regions to come together and learn best practices, exchange ideas, and get inspired by each other to reach their full potential.
What do you do at a national sales meeting?
Attending a national sales meeting is an invaluable opportunity for sales teams to connect with each other, exchange ideas, and share best practices. Together, they can review the previous year's accomplishments and look ahead to set goals that will drive success in the future.
This powerful collective experience helps unite the sales organization and propel them toward common objectives.
What do you discuss in a sales meeting?
In a national sales meeting, several things can be discussed, including: goals, priorities, accomplishments, struggles, competitive landscape, product updates, marketing updates, sales updates, pipeline and current deals, and more.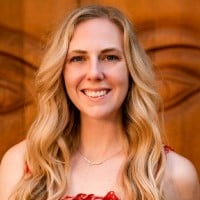 Katie Moser
Katie Moser is the Director of Marketing and Business Development at GoGather. She has an extensive background in creating content and branding for events, working with speakers, and managing agendas for conferences. When she's not updating blog posts and sending out social media posts, she helps clients identify areas of opportunity for their events from branding to communications. In her downtime, she enjoys spending time at one of the many beautiful San Diego beaches, exploring new breweries, or chilling at home with her cat.