Incentive travel can be a hard sell sometimes. Trips are expensive, and often there are other ways to invest money. But incentive travel can be highly valuable to companies, beyond just the hard numbers.
From improving company culture to motivating your team, this article will cover the key benefits of hosting a group incentive trip.
It's About More Than Titles or Money
Traditionally, companies look at performance and issue bonuses or other rewards based on how well individuals perform in a given year. But the world has moved past just climbing up the economic or career ladder.
Work-life balance is increasingly important to employees. In fact, according to Statista, 67% of males and 78% of females in their survey found work-life balance to be "very important."
Burnout is also a major factor in employee and business success. According to a study by Deloitte, "77% of professionals have experienced burnout in their current jobs."
Remote work doesn't necessarily help. A roundup of stats from Zippia cites, "86% of full-time remote workers have experienced burnout at their current job."
Part of this is feeling disconnected with colleagues. Workers want connection. In fact, a study by Nectar HR found, "69.5% of employees would be happier if they had deeper connections with work colleagues."
People are feeling burnt out. They're leaving their jobs. They want connections with those they work with.
They can't get that behind the computer screen.
Plus, burnout and turnover cost money.
Incentive travel is a major way to alleviate a lot of these issues (it's not the only way, nor should it be the only thing in your toolkit). So let's take a look at the value of these trips for both your business and your employees.
The Value of Incentive Travel for Businesses & Employees
Incentive travel programs can be a game-changer for businesses, offering a multitude of benefits that go beyond just a fun trip.
Connecting Leadership to Top-Performers
This is quite possibly the most valuable aspect of a strategically-built incentive program.
Your President's Club trip is an exclusive opportunity to gain real insight into what makes the business successful.
The relaxed yet collaborative environment of a President's Club trip means executives and top-performers can connect, learn from each other, and gain feedback.
Top performers also have the opportunity to share their successes and best practices with each other.
This sets the tone of the program as not only an exciting trip but a learning opportunity, and a group that is invaluable to your business. Plus, this can also be incorporated after the event into monthly or quarterly roundtables and discussion groups on strategy, successes, and insights.
Boosting Employee Retention
Retention is always an important topic for businesses, but especially in an age where employees are highly mobile and top-performers can easily change jobs. Incentive trips are often a great tactic in your retention strategy to recognize and retain those top employees.
In fact, according to a 2021 study in the National Institutes of Health, "Organizations that offer strong benefits and incentives to employees reduce the likelihood of turnover by 26% and increase retention by 14%."
Increasing Employee Motivation
Incentive trips undoubtedly boost employee motivation. A study from the Incentive Research Foundation found that the percentage of sales professionals that say they found group incentive travel to be highly motivating rose from 80% in 2021 to 91% in 2022.
This suggests that not only is group incentive travel appealing across the board, but that it is becoming more of a driver of motivation among salespeople.
This applies both before the trip and when attendees return from the trip. Hearing about an incredible trip motivates employees who did not qualify. They'll want to work harder to achieve that pinnacle reward, and those that did make it on the trip will want to qualify again, thus creating a culture of health competition among your workforce.
Creating a Sense of Loyalty
Incentive travel can make employees feel valued and appreciated, increasing their loyalty toward the company.

This in turn can make these top performers brand ambassadors for your company, improving the general positive feelings toward your brand among all employees.


We've seen this with our clients as well. Feedback from incentive trips that are focused on creating employee loyalty and positive culture drive the best feedback, with attendees saying things like "I feel so connected to my company" and "I'm so thankful to work for a company that provides opportunities like this."
Fostering a Positive Company Culture
Your incentive trip is an opportunity to reinforce your company culture to your top-performers. These are the people that set the tone for the rest of your company, and having them become brand ambassadors can be one of the most valuable things you do.
Especially with remote work, company culture can be difficult to build. According to the Incentive Research Foundation, 91% of respondents agree that with dispersed workforces, incentive travel has become increasingly important for building engagement and company culture.
That means it's highly important to organize opportunities for employees to connect, and group incentive travel, moreso that individual incentive travel, gets this done.
Recognizing and Rewarding Achievements
Incentive trips are also an opportunity to celebrate and reward your high-performers. By setting aside time to truly reward their hard work, and even setting up an awards dinner, you can recognize your employees and show that you appreciate their sacrifices and efforts.
Encouraging Work-Life Balance
Group incentive trips aren't only about connecting with each other. They're also an opportunity for individuals to relax and rejuvenate from a hard-earned year. Incentive trips show your company's dedication toward work-life balance and promoting well-being among your employees.
Improving Business
Incentive travel programs provide employees with clear objectives to work towards, motivating them to achieve their targets. At the end of the day, this is one of the biggest benefits for companies.

Incentive trips encourage healthy competition, which can enhance performance and productivity. This in turn creates more successful businesses.

A study by the Incentive Research Foundation says, "Top Performers were ... 18% more likely to offer group incentive trips [than their comparators]."


Incentive trips also inspire collaboration and teamwork by helping individuals in the company get to know each other on a more personal level. Team-building activities, networking lunches, and other opportunities to connect all drive better teamwork.

Finally, incentive trips recognize success and boost your employees' morale, confidence, and drive for the year ahead.

Put simply: incentive travel is good for employees and it's good for business.
Plan Your Next Group Incentive Trip with GoGather
Ready to implement an incentive trip for your top-performers? GoGather can help you design a program that not only rewards these employees but also maximizes your business success. Let's brainstorm how we can make your trip once-in-a-lifetime.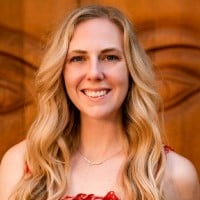 Katie Moser
Katie Moser is the Director of Marketing and Business Development at GoGather. She has an extensive background in creating content and branding for events, working with speakers, and managing agendas for conferences. When she's not updating blog posts and sending out social media posts, she helps clients identify areas of opportunity for their events from branding to communications. In her downtime, she enjoys spending time at one of the many beautiful San Diego beaches, exploring new breweries, or chilling at home with her cat.