Imagine hosting a successful event that not only achieves its objectives, but also attracts the right sponsors, generating additional revenue and credibility.
The key lies in crafting creative and effective sponsorship packages tailored to your event and the sponsor's needs.
In this blog post, you'll learn all about event sponsorship packages, including:
The importance of event sponsorship packages

Various types of packages

Customizing proposals

Utilizing event technology

Proving ROI to potential sponsors

Creative ideas for virtual and hybrid events

Building long-term relationships with sponsors

Successful event sponsorship examples
Short Summary
Event sponsorship packages are essential for providing additional funding, visibility, and promotional opportunities for an event.

Two main types of event sponsorship packages include tiered and a la carte models with customizable benefits.

Building long-term relationships with sponsors involves understanding target audiences, defining objectives, creating innovative packages & offering incentives to show value.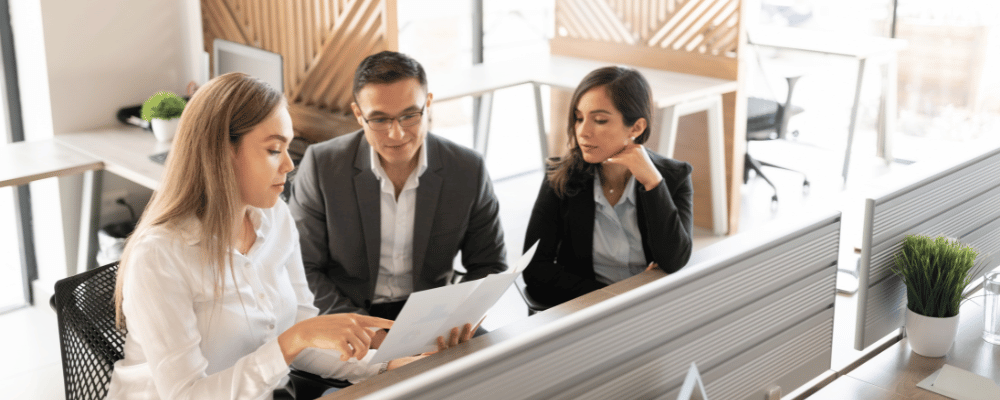 The Importance of Event Sponsorship Packages
Event sponsorship packages play a crucial role in bringing additional funding and visibility to your event, making it more attractive to attendees and stakeholders.
They offer event sponsors prominent logo placement on event materials, opportunities to promote products or services, and recognition in marketing materials and media coverage, which appeals to potential sponsors.
To enhance the value of a sponsorship package, you can offer exclusive experiences to attendees, assist with event costs, expand the event's reach, and ensure the sponsor's logo is prominently displayed.
It's also essential to select event sponsors who share values with the event, as it provides immediate credibility to the event's purpose and creates a strong partnership.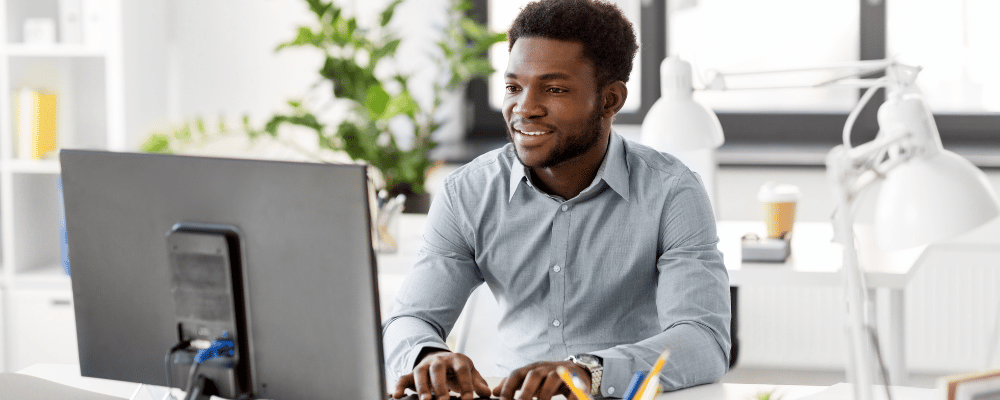 Types of Sponsorship Packages
When building sponsorship packages, there are two main types to consider: tiered sponsorship packages and a la carte sponsorship packages.
Tiered packages offer varying benefits and pricing, catering to different sponsor needs, while a la carte packages allow sponsors to contribute to specific event components.
These different sponsorship packages can be used together to create a rounded-out sponsorship program that can appeal to a wide range of sponsoring companies.
Let's dive deeper into each type.
Tiered Sponsorship Packages
The tiered sponsorship model provides flexibility for sponsors by offering different price points and benefits to suit their needs. A tiered model typically multiple sponsorship tiers (typically 4-5) that include several different branding and sponsorship opportunities throughout the event.
High-value elements in sponsorship packages, such as speaking opportunities or one-on-one time with executives, can motivate exhibitors to purchase premium event sponsorship packages.
As you're developing a tiered sponsorship package, you should include the benefits, perks, and requirements for each tier. They should be distinctly different so sponsors can determine which is the best fit for their business.
Some areas to add to your tiered sponsorship model include:
Logo placement on the event website or a designated sponsor page

Social media shoutouts

Handout materials

Booth space

Speaking opportunities

Branding throughout the event

Access to attendee data

Feature on the event registration page
When creating tiered sponsorship packages, present each tier of the package with clear benefits, perks, and requirements for each tier.
À La Carte Sponsorship Packages
The a la carte sponsorship model offers greater flexibility by allowing sponsors to contribute to specific event components and achieve particular objectives or results.
This type of package can be tailored to suit each sponsor's unique needs, making it an attractive option for those seeking a more customized approach.
During the event, a la carte sponsorship options may include engaging with attendees via a branded break-out room, swag bags, drinks, transportation, lanyards, evening events, mobile event app, and more. For pre-event exposure, a la carte sponsorship can incorporate sponsor logos into event promotion materials or other marketing activities.
As event organizers and planners, it's essential to consider various a la carte sponsorship options that cater to the specific goals and preferences of your potential sponsors. Give them the opportunity to find something within their budget that is still valuable.
And pro tip: most events offer both tiered and a la carte options to their sponsors.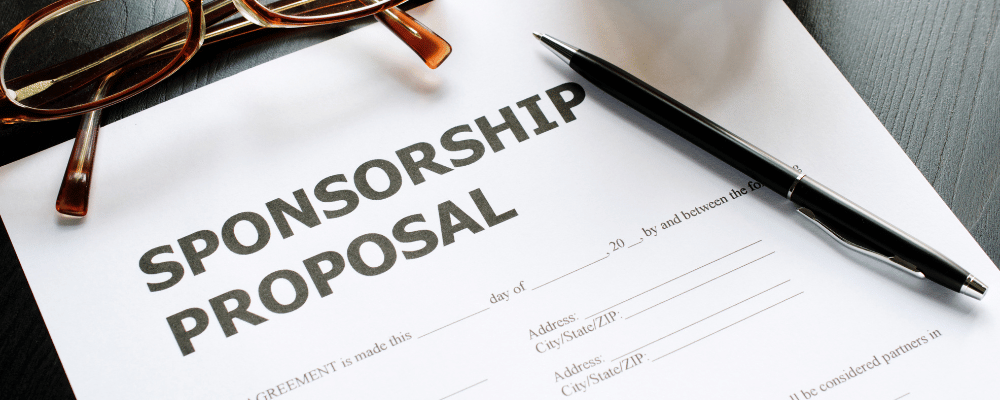 Customizing Sponsorship Proposals
To create successful sponsorship proposals, you need to really understand the sponsors you're looking to recruit. What are their needs, goals, pain points?
Once you determine these things, you can customize the package to entice them.
Start by brainstorming potential advantages for sponsors, considering the value you can offer, the company's anticipated return on investment from the event, and what makes your organization stand out.
Next, establish various tiers with commensurate benefits based on the level of investment. Consider what would be of most value to your specific target sponsors and craft the offerings to fit them, not just to benefit your event.
When reaching out to these companies to ask for sponsorship, we recommend crafting a personalized letter or email to appeal to them. Take into account different aspects of their company and try to tailor the message to them.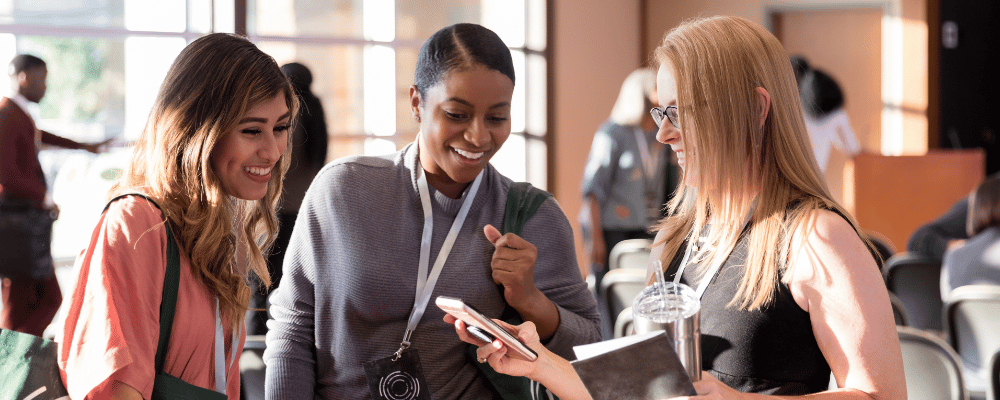 Utilizing Event Technology for Your Sponsorships
Event technology can simplify the process of finding, contacting, and monitoring potential sponsors.
Management software like Optimy and Proposify provides quick access to contacts, email management, and automated responses.
With these tools, you can streamline your sponsorship outreach efforts, making it easier to connect with the right sponsors for your event.
And don't forget about your event app. This is an excellent opportunity to connect your sponsors with event attendees, showcase their logos, and (as a benefit to you) pay for your app.
Proving ROI to Potential Sponsors
To convince potential sponsors to invest in your event, it's crucial to prove the return on investment they can expect. One effective way to demonstrate ROI is by showcasing successful past events and data through case studies.
Case studies can provide potential sponsors with insights into the benefits they can expect from partnering with your event.
In addition to case studies, providing metrics such as attendance, engagement, and ROI from event data can also help demonstrate the value potential sponsors can expect from partnering with your event.
Show them how they can benefit from brand exposure at your event and how you'll help them hit their sales or marketing goals.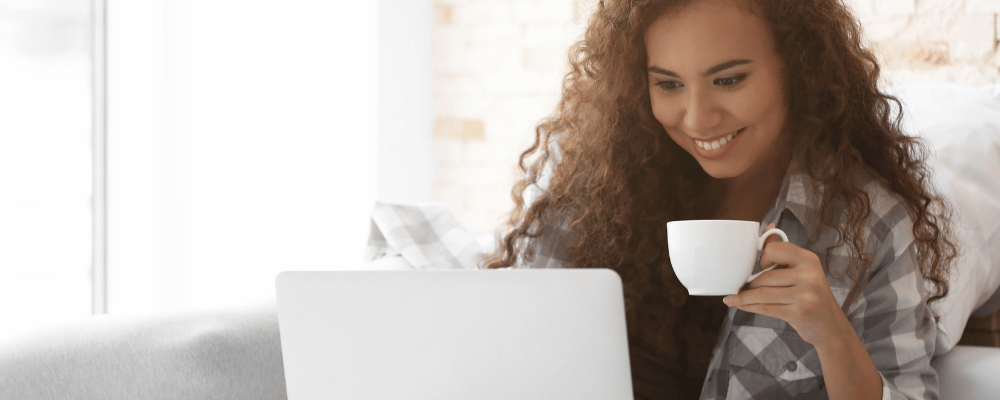 Creative Sponsorship Ideas for Virtual and Hybrid Events
Virtual and hybrid events are still going strong, even as more companies move to an in-person model.
These events are notoriously difficult to get sponsors for, especially with in-person events as an option again. So it's more important than ever to really show the value of a virtual event sponsorship and get creative with the options you offer.
Some innovative ideas include sponsored live streams, virtual reality activations, sponsored entertainment, sponsored merchandise, virtual lunch sponsorship, breakout "room" sponsorships, sponsored closed captioning or interpretation, short fitness and wellness sessions, and mailed giveaways.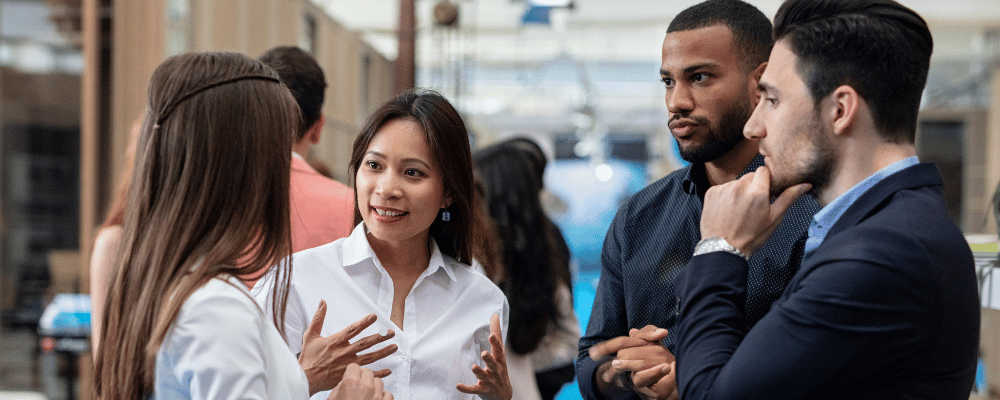 Building Long-Term Relationships with Sponsors
Building long-term relationships with sponsors can prove advantageous for companies seeking reliable and consistent return on investment from event sponsorship. If you're hosting an event year-after-year, you want to make sure you can count on large sponsors to come back again and again.
Sometimes offering exclusive perks to your most valuable accounts can be an advantage. Make it unattractive to not sponsor your event.
Maybe it's offering exclusive access to your attendees at an evening event, or maybe it's giving them first dibs on the a la carte sponsor items. Whatever it is, make sure you understand what would be most attractive to these sponsors.
It may also be worth assigning a specific person to foster that relationship, as you would with an account manager and your clients. That way, your sponsor has someone specific they can reach out to with questions and also someone they feel connected to at your company. When the time comes around to ask for money, it's an easier sell.
Successful Event Sponsorship Examples
Several successful event sponsorships serve as excellent examples for virtual and hybrid conventions. Two of our recent favorites are INBOUND 2022 and GitHub Universe.
GitHub Universe provides comprehensive demographic information for potential sponsors, including attendee job types, company types, and location details.
HubSpot's sponsorship prospectus for INBOUND 2022 contains digital mockups demonstrating the physical and digital opportunities available to potential sponsors.
These examples showcase how providing detailed information and unique sponsorship opportunities can attract potential sponsors and contribute to the success of an event.
By studying these successful event sponsorship examples, you can gain valuable insights into effective strategies for attracting and retaining sponsors, ultimately contributing to the success of your own events.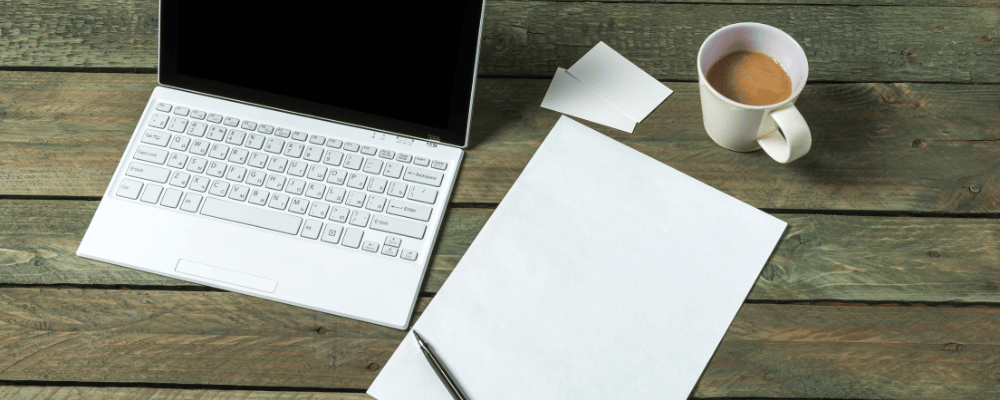 Sponsorship Package Template
Here's how to structure your event sponsorship package:
Cover page includes event name, date, location, and an image of a past event or the location
Introductory page includes a letter from your company explaining the event and inticing your sponsors. This can include things like testimonials, a link to your event website, and an overview of why this event is so great for sponsors to attend.
Attendee overview page includes information on how many attendees you expect to have, their titles and companies, along with other demographics that might be important to your sponsors. It can also be helpful to list the types of sponsors you've had in the past (AKA their competitors)
Sponsorship package tiers should include each tier and what's included in it, plus the price of the package. Money talks, so make it super easy to find the price for each tier.
Tier comparison chart can help your sponsors compare each package and determine which is right for them.
A la carte sponsorships should be listed next, with a clear outline of what each is (with pictures, if possible) and the price for each.
Terms and conditions should outline how sponsors can sign up, how they pay, when items are due, and if they can combine different sponsorships.
Contact page should give them clear instructions on how to reach you for any questions
Summary
Event sponsorship packages play a pivotal role in the success of events, providing additional funding, visibility, and credibility.
Creating effective sponsorship packages involves understanding different types of packages, customizing proposals, utilizing event technology, proving ROI to potential sponsors, incorporating creative sponsorship ideas, building long-term relationships with sponsors, and learning from successful event sponsorship examples.
With the knowledge and strategies outlined in this blog post, you are now equipped to craft compelling and effective sponsorship packages that will help attract potential sponsors and ensure the success of your events.
Let's chat about strategies for your upcoming event and how GoGather can help you source and craft your perfect sponsorship package. Chat with us today.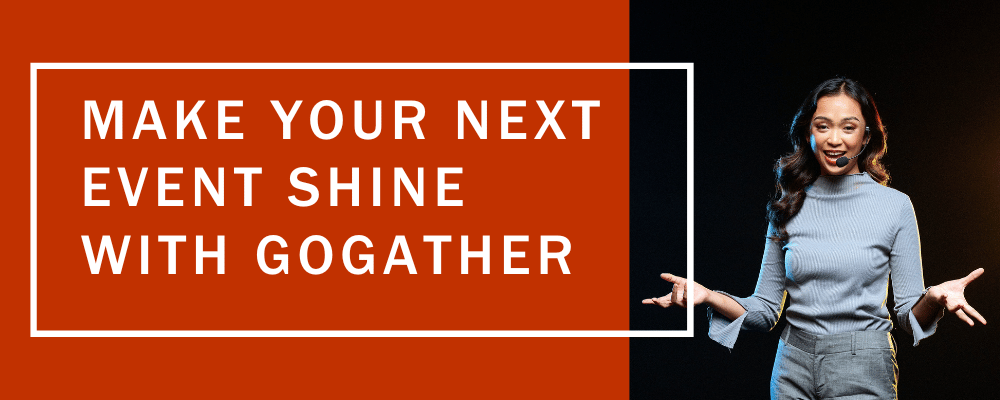 Frequently Asked Questions
What should be included in a sponsorship package?
A sponsorship package should include an overview of the company or organization as well as the event, details on the available sponsorship levels and benefits, a timeline for fulfillment, and contact information for further inquiries. A
dditionally, including testimonials or success stories from previous sponsors can be a powerful way to engage potential sponsors.
What is meant by sponsorship package?
A sponsorship package is a beneficial agreement that binds a brand to an activity, offering support and various services in exchange for recognition.
It's the go-to method for creating long-lasting relationships between sponsors and organizations that wish to gain mutual advantages.
How do you find companies that will sponsor you?
Finding companies to sponsor you is possible, but it can require significant effort. Start by researching potential sponsors and existing supporters, then reach out to established companies with incentives and a compelling story that is backed up with data.
Make sure to identify the right contact person to build a connection with and follow up with them.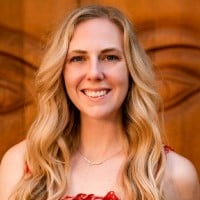 Katie Moser
Katie Moser is the Director of Marketing and Business Development at GoGather. She has an extensive background in creating content and branding for events, working with speakers, and managing agendas for conferences. When she's not updating blog posts and sending out social media posts, she helps clients identify areas of opportunity for their events from branding to communications. In her downtime, she enjoys spending time at one of the many beautiful San Diego beaches, exploring new breweries, or chilling at home with her cat.