Your next conference is coming up but you need to know how to keep your audience interested. The tactics that worked in the past might not be working now.
Conference trends come and go, but certain activities can be excellent to keep your audience engaged and having fun at your event.
In this blog post, we'll reveal 23 creative conference activities ideas for 2024 that will transform your event into an immersive and memorable experience!
Short Summary
Unlock the secrets to maximum event engagement with 23 creative conference activity ideas for 2024.

Engage attendees before, during, and after your conference with interactive activities such as live polling, give-back events, and pre-event teasers.

Enhance networking opportunities & track success by following up post-event through surveys, content creation & social media highlights.
Why Conference Activities Matter
Capturing audience interest continues to be a difficult task for conference managers. With unique expectations, preferences, and interests -- and not to mention distractions -- it's important to incorporate activities that will engage and excite your attendees, and make your conference stand out. Activities break up the taxing task of listening to presentations, which can become exhausting if that's all your attendees are doing. Plus, they help your attendees bond and just have fun -- which is an important aspect of any conference.
From engaging them before your event to finding the perfect follow up, there are tons of activities that you can incorporate keep your conference interesting for all the attendees. Let's take a look at some of those below.
8 Engaging Pre-Conference Activity Ideas
Let's dive into 10 engaging pre-conference activity ideas that will build excitement and awareness for your event, and captivate your attendees even before the conference begins.
Virtual Event Teasers
Virtual event teasers are a fun way to get attendees involved online before the conference, and can be used as promotions as well. Consider hosting virtual roundtables, live streams, and polls, which allow your attendees to engage with you and potentially each other prior to the event.
You can also host virtual networking events prior to the conference to help attendees meet each other and get excited to meet up in person.
Customizable Agendas
Get your attendees pumped for their conference experience by offering digital agenda creation prior to the event. This can be incorporated into your registration site or event app by offering sign ups for sessions, networking events, and other activities. This gets attendees invested in their conference experience and also gives you insight into which sessions are the most popular -- and which might need some work.
You can also leverage this as a marketing tactic by releasing the agenda a certain amount of time before the event. This creates another touchpoint for attendees to come back to your event site and get excited -- and potentially invite others.
Online Communities
Build up your online community prior to the event by inviting potential registrants to your community group. Get conversations started in these groups and help facilitate introductions between members.
This community approach is extremely popular and can help strengthen your event's success as community members will have more affinity toward your brand prior to even attending the event.
Attendee Profiles
You can also encourage attendees to build out their attendee profiles prior to the event. Custom questions can help participants get to know each other, and also helps you understand their preferences so you can tailor the conference even more.
Pre-Event Webinars
Pre-event webinars are a great way to share teaser content prior to your event. You can opt to share thought leadership content or set up the webinar as a sort of "prep" for your conference, where attendees can get all the details and ask questions of the event coordinators.
Countdown Timers & Posts
Countdown timers are fun tools that you can incorporate on your website or social media to get your attendees excited for your event.
You can also consider creating countdown video content on social media to engage with your followers. Consider things like "one month to go" or "behind the scenes" type content that will encourage followers to register for your conference.
Exclusive Pre-Event Content
Pre-event content can help to ramp up interest among potential attendees, ultimately resulting in higher registration and attendance rates. Consider valuable items that can only be accessed by registrants, such as guidebooks, exclusive merchandise, or early product access.
Virtual Venue Tours
Virtual venue tours are an exciting digital solution that allows users to explore a location or venue without physically being there, all through a sequence of panoramic images or videos. Virtual venue tours offer a truly immersive experience for attendees, letting them explore a venue in detail before they arrive and get a better feel for the layout and atmosphere.
Some truly amazing examples of virtual venue tours include 360-degree tours of a venue, interactive 3D tours, and virtual reality tours.
11 Interactive During-Conference Activity Ideas
Now that we've covered pre-conference activities, let's explore 11 interactive during-conference activities to keep attendees engaged throughout the event.
Live Polling
Live polling is a great way to get attendees to participate in sessions in real-time. Many conference organizers will use live polling to ask basic demographic questions, such as what city did you travel from, or what's your opinion on XYZ topic?
But you can also consider having your speakers leverage live polling during their presentations to guide conversation. Maybe they ask session attendees what topic they most want covered (e.g. do you want to talk about AI's effect on cats or AI's effect on dogs?). They can also have attendees provide demographic details to help guide the conversation (are you a dog person or a cat person?)
Live polling can be hit or miss during events, but if it's set up well and in an interesting format, it can be incredibly powerful.
Audience-Driven Sessions
Audience-driven sessions can add a dynamic and engaging element to your conference experience by involving the audience through discussions, polls, or Q&A sessions. Some exciting examples of audience-driven sessions include 1:1 sessions with experts, live polls, surveys, raffles, quizzes, and breakout sessions.
We love this way of structuring your sessions, as most people like an element of hands-on participation instead of just being lectured at.
Gamification Elements
Gamification elements are game-like features that can be added to non-game contexts to make them more exciting. Some basic gamification elements are things like photo scavenger hunts or contests on your expo floor.
You can even consider incorporating actual games like jeopardy or an "amazing race" style event to really get your attendees engaged. Make sure to hire an emcee for this aspect of your event to really bring the gamification to life.
Networking Breaks
Networking breaks, such as coffee breaks, cocktail receptions, and networking lunches, offer attendees a great chance to connect with new people, foster relationships, and share ideas. They also provide a much-needed break from the event to recharge and refocus.
We highly recommend incorporating these consistently throughout your event to break up the monotony of presentations and help attendees get to know one another.
Creative Workshops
Introduce a little creativity into your event with workshops such as painting or pottery making. These can be nice breaks from the content-driven event and allow your attendees to engage in creative pursuits with each other.
Tech Showcases
Tech showcases offer a chance to explore the latest technology products and services from leading companies. They also provide a great platform for companies to network and build meaningful relationships with other industry professionals.
To create an engaging experience for attendees, think interactive demos, hands-on activities, and educational materials.
Mobile Photo Booths
Themed mobile photo booths are an exciting way to capture memories and celebrate special occasions during your conference. Attendees can get creative and take photos anywhere in the event, reducing lines and creating more opportunities to capture user-generated content throughout the conference.
Give Back Events
Give-back events are a great way to get attendees working together for a good cause. Consider events that require teamwork and communication, such as bike-building events, and even toss in a bit of competition to make it fun.
Expert-Led Roundtables
Expert-led roundtables offer an exciting opportunity to engage in meaningful dialogue with industry experts and make your voice heard on a specific topic. All participants are welcome to join in and share their thoughts. You can ask questions and share your own insights on the subject, making it a great chance to learn and grow.
Live Performances
Live performances are a great way for attendees to unwind after a long day at your conference and perhaps even experience some local culture. Consider music, theater, dance, comedy, or other forms of performance art.
5 Post-Conference Activity Ideas
Keep the momentum going even after the conference has concluded with 6 post-conference activity ideas that will keep attendees interested and collect data for future events.
Post-Event Surveys
Post-event surveys are an invaluable tool to measure the success of an event, ensure future events are even better, and demonstrate to your audience that their feedback is valued and appreciated. Use the insights gained from these surveys to continuously improve and enhance your future events.
Event Recap Content
Event recap content is an amazing way to share key takeaways, highlights, and memorable moments from an event. Send photos, videos, and quotes from speakers and attendees, plus presentations and takeaways from the event. Try creative ways of sharing this content beyond the typical slide deck -- maybe put it into an interactive format that attendees can refer back to at a later date.
Online Discussion Forums
Use online discussion forums to keep the conversation and networking going even after your conference has ended. If you set up an online community prior to the event, leverage that to keep conversations going afterward. Ask people to share their thoughts, iterate on presentations, or ask questions that they didn't get to ask at the conference.
Keeping communities engaged after your conference will help future conferences, and your business, be successful well in the future.
Social Media Highlights
Social media highlights are an exciting way to showcase the most memorable moments of an event on social media platforms. Photos, videos, quotes, and other content can be shared to promote the event and draw in more attendees in the future.
Post-Event Networking Opportunities
Don't let the connections made during your conference fade away - keep the networking going strong with post-event opportunities.
Post-event networking opportunities provide a great way for attendees to continue connecting with each other and building valuable relationships even after the conference has ended. Consider smaller regional events or online events to keep networking.
Summary
Conference activities play a crucial role in creating unforgettable experiences and captivating attendees throughout the entire event journey. By incorporating engaging pre-conference, during-conference, and post-conference activities, you'll ensure maximum event engagement and create a conference that stands out from the rest.
As you plan your next conference, remember that the key to success lies in understanding your audience's interests and preferences, selecting captivating activities, and maintaining a strong connection with attendees even after the event has concluded. By implementing the creative conference activities ideas shared in this blog post, you'll be well on your way to hosting an exceptional conference that will leave a lasting impression on all attendees.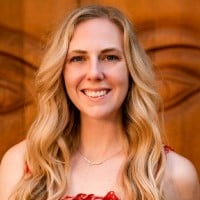 Katie Moser
Katie Moser is the Director of Marketing and Business Development at GoGather. She has an extensive background in creating content and branding for events, working with speakers, and managing agendas for conferences. When she's not updating blog posts and sending out social media posts, she helps clients identify areas of opportunity for their events from branding to communications. In her downtime, she enjoys spending time at one of the many beautiful San Diego beaches, exploring new breweries, or chilling at home with her cat.