We love lists here at GoGather. That's why we've assembled your event planning checklist to make sure your next conference or meeting is amazing.
Let's take a look.
Short Summary
Comprehensive event planning checklist essential for successful execution.

Event objectives, goals, budgeting & financial management must be established to plan a well-organized event.

Make sure your theme and content is clearly defined before jumping too far into planning, as these will help guide your event planning process.
The Importance of an Event Planning Checklist
Keeping a detailed checklist helps you stay organized and ensures no essential details are overlooked before the event. From setting the event budget to arranging the event website, a checklist covers all aspects of event planning, making it easy for you to track your progress and prioritize tasks.
We recommend you start planning for your event 6-12 months prior to the event. The beginning of this period is when you should create and customize your checklist.
Customizing Your Event Checklist
Customizing your event checklist is equally important, as it ensures that the list meets the desired objectives and specifications of your event.
The initial steps in customizing your event checklist include establishing event objectives, defining goals, and creating a budget. These elements will serve as the foundation of your planning process, ensuring a targeted and well-organized event.
Also consider factors such as the event format, target audience, and marketing strategies when customizing your event checklist.
1. Set Event Objectives and Define Goals
The first thing that should always be on your checklist is setting your event goals.
By defining event objectives, you can better align your planning process with the desired outcomes, ensuring that every aspect of your event contributes to its overall success.
Do you want to gain revenue? Increase your attendance rate? Increase your attendee satisfaction score? Make sure these are clearly defined and communicate to the team involved.
Get a free guide on how to measure your event KPIs.
2. Create a Budget
Next, make sure to outline a comprehensive budget for your event. This will help you really focus your event to achieve your objectives and not get sidetracked by other items.
To set your budget, examine prior events, formulate a list of costs, obtain vendor quotes, and consider hidden costs like extra expenses or taxes.
Establishing a budget also helps you ascertain ticket prices and identify the breakeven point. If you're looking to gain revenue on this event, this portion of your budget will be crucial to include.
3. Assemble the Right Event Team
Once your event objectives and budget are in place, it's time to assemble your event team. This involves assigning roles, responsibilities, milestones, and deadlines to ensure a smooth and efficient planning process.
Also make sure to get your executive team involved regularly, so they are aware of what's taking place and also so they can contribute their own ideas. Executive support is a major aspect in ensuring a successful event (and additional events in the future).
4. Select the Right Theme and Content
This is often overlooked as a secondary part of your event, but we would argue it's one of the most important aspects of your event. It helps create continuity throughout and also helps drive your agenda, speakers, and evening events.
We recommend leveraging your event goals, business goals, and marketing objectives to craft your theme and content. A typical structure we use is an overarching event name, then a yearly theme, then several track themes that all roll up into the overarching theme. This can help you structure your content and provide ideas for your speakers.
5. Develop Your Agenda
Now that you have your content, your agenda should naturally flow from there. Make sure to include opportunities for networking, learning, varied presentation styles, and more. Here are some insights into how to keep your audience engaged.
6. Create Your Event Timeline
Next, you can start to put together your event timeline, which includes all the elements you need to get done to complete your planning. Ideally, this timeline should have due dates as well as assignments so everyone on your planning team knows what needs to get done, when, and by whom.
7. Secure Vendors, Speakers, Panelists, and Entertainment
Next comes your vendor selection, speaker search, and more. Make sure to fully research options for your event, and lean on your event management team to help provide suggestions.
Finding the right speakers, panelists, and entertainment is a crucial aspect of event planning. You can locate speakers through various channels such as social media, speaker websites, networking and referrals, or even contacting your local Chamber of Commerce. Additionally, consider your audience's preferences and seek out content creators to ensure a diverse and engaging lineup.
Learn how to pick the best keynote speaker for your event.
When selecting vendors, make sure to research potential vendors, compare prices and services, and negotiate contracts.
8. Select Your Venue and Consider Logistics
Selecting the perfect venue can help the likelihood of a successful event. Consider factors such as location, capacity, services and amenities, ambiance, cost, and logistics when choosing a venue. A clear vision of your event, its budget, and the number and type of guests will help you make an informed decision.
Tasks involved in venue selection and logistics include researching potential sites, negotiating contracts, and booking service providers. Vendors include your A/V team, potential food & beverage caterers, sponsors, exhibit hall vendors, evening event vendors, and more.
9. Develop Your Marketing and Promotion Strategies
A well-executed marketing plan helps generate registrations and increase your event's visibility across the web. Create an event website, launch email campaigns, and utilize traditional and social media marketing strategies to reach your target audience and promote your event effectively.
Also consider using various advertising methods for your event, such as social media, search engine marketing, and programmatic ads.
10. Select Event Technology and Tools
Make sure to select an appropriate registration site as well as other event technology you may potentially want at your event, such as a mobile app.
You will also want to consider other technology like presentations, A/V, speakers, interactive walls or photo areas for your event. Make sure these are included in your event checklist as well.
11. Pre-Event Preparation and Coordination
As the event day approaches, it's crucial to finalize details, make deposits, and check off your final items from your timeline. These steps ensure that all necessary details are taken care of before the event day, allowing you to focus on providing a memorable experience for your attendees.
Make sure to do a site visit a few months prior to the event to walk the space and make any necessary changes with the venue.
Conduct a dry run prior to the event to assess any issues such as microphone problems or presentation changes.
12. Managing the Event Day
On the event day, your event planning checklist should include managing any emergencies that may arise. This involves having a plan in place for technical difficulties, medical emergencies, or last-minute changes in the event schedule. By being prepared for unexpected situations, you can ensure a smooth and successful event.
13. Post-Event Activities and Analysis
After the event, it's essential to follow up with attendees, speakers, and sponsors to reinforce the event message, solicit feedback, and encourage further action. This not only helps you measure the event's success, but also maintains connections and involvement with participants, contributing to the success of future events.
Also make sure to assess your goals and budget, and consider what changes you may need to make for next year.
Summary
A well-organized event planning checklist is the key to a successful event.
By following the ultimate event planning checklist for 2023, you can ensure a seamless and stress-free experience for both you and your attendees.
Remember to customize your checklist, define clear event objectives, assemble an efficient team, and utilize event technology to enhance the overall event experience. With these steps in place, you'll be well on your way to planning and executing memorable and impactful events.
Ready to plan your event but not too into checklists? Let's talk about how GoGather can manage every aspect for you.
Frequently Asked Questions
What is a checklist for event planning?
A checklist for event planning ensures you cover all the essential details for your event. This includes establishing the date, venue, type of event, budget, and objectives so that the rest of the details can be designed around these key elements.
What should be on an event checklist?
Organizing an event can be complicated, and it's best to make sure you have all the components squared away. An event checklist should include all the activities you need to get done, the dates they're due, and the people assigned to each task.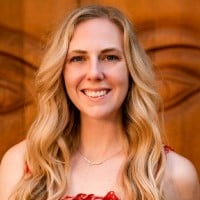 Katie Moser
Katie Moser is the Director of Marketing and Business Development at GoGather. She has an extensive background in creating content and branding for events, working with speakers, and managing agendas for conferences. When she's not updating blog posts and sending out social media posts, she helps clients identify areas of opportunity for their events from branding to communications. In her downtime, she enjoys spending time at one of the many beautiful San Diego beaches, exploring new breweries, or chilling at home with her cat.