Picture this: a multi-day conference is in full swing, thousands of attendees are engaged, and everything is running smoothly. A dream, right?
The secret lies in the intricate web of event logistics.
Organizing a successful event requires meticulous planning, coordination, and execution. But what exactly does event logistics entail?
In this blog post, we'll explore the best practices and key elements for event planning logistics in 2023, giving you the tools to create unforgettable experiences for your attendees.
Short Summary
Event logistics is an essential part of event planning and management that encompasses a wide variety of tasks.

Essential best practices for managing event logistics include budgeting, team coordination, vendor management, and contingency planning.

Event technology solutions can streamline logistics to ensure successful events while overcoming common challenges in the process.
Understanding Event Logistics: Definition and Importance
Event logistics refers to the planning and management of all individuals and materials associated with a given event.
Equipment storage, event venue selection, registration, and material transportation are just a few of the tasks that need to be managed. Logistics also takes into consideration how items get from point A to point B, and how items are executed before and during the event. This can include things like attendee transportation, staff communication, vendor management, and more.
The importance of impeccable event logistics cannot be underestimated, as it guarantees a successful event experience. Just like supply chain managers are vital for the success of products, those that manage event logistics are vital for the success of an event. They're like the conductor of an orchestra: they ensure every note is considered and executed.
Key Elements of Event Logistics
To ensure the success of your event, it's essential to address five key elements of event logistics: venue selection, attendee transportation, catering services, technology integration, and security measures.
By carefully considering these elements, you can create a comprehensive logistics plan that sets your event up for success.
In the following sections, we will delve deeper into each of these key elements, discussing their significance and providing you with practical tips and advice.
Venue Selection
Choosing the right venue for your event can majorly impact your event logistics. The venue location, capacity, amenities, and more, can affect how smoothly your event runs.
There are many things to consider when you choose your event venue, including:
Where is the location of your venue? Is it easily accessible for attendees? Does it have additional amenities like parking? Or, if you're planning to provide transportation, is it easy for buses to load and unload?

What amenities does the venue offer? From A/V to food & beverage, you'll want to make sure the appropriate amenities are offered for your event. If you plan to bring in external vendors, you'll want to make sure you understand this process fully.

Is the staff easy to work with? This can be a major factor in your event planning process. If communication is easy and staff is easy to reach, it can make the planning and execution processes much easier. Also make sure to check if the venue is in a location with union requirements; this can affect your setup times and costs.

Is the space appropriate for your event? This is something that can only really be uncovered by a site visit. Walking the space from your attendees' perspectives is crucial, as you can uncover things you might not have noticed when looking online. (Maybe the breakout rooms are absurdly far from the ballroom, or maybe there aren't good locations for your evening events.)

What is the shipping and unloading process like? Likely, you'll be shipping in materials and unloading equipment for your event. Make sure you understand how this works at your venue and what types of fees are associated.
Prior to your event, conduct a walkthrough of the venue and ask as many questions as you can to fully understand the opportunities and limitations of your chosen venue, so you can plan accordingly.
Attendee Transportation
Attendee transportation is a crucial component of event logistics.
Do your attendees need their flights managed? Will they be traveling far? Will they need connecting flights?

Will you be providing a shuttle service from the airport? Uber credits? Public transportation credits?

Will you be providing transportation to and from your venue?

Will some attendees need extra accommodations like accessibility features or late time for pickup?

Does the transportation company offer consistent communications or tracking of their vehicles?

How does the transportation company communicate to attendees on pickup and drop off locations?
Services
Event services include things like food & beverage, vendors, A/V, expo halls, and more.
Once you have your venue chosen and transportation logistics figured out, these services are going to be important to streamline.
Things to consider and questions to answer include:
Food & Beverage: When do you need food and how much? Where will the food be from (venue, external vendor)? Do you need bartenders? Waiters? Will you just have a buffet? Will these be staffed by your venue or externally? Will you be eating everything onsite or will you do offsite events? What kind of dietary requirements do your attendees have?

Vendors: What types of additional vendors will you need? Do you need giveaway bags? Photographers or videographers? Special vendors like performers or other entertainment? Team-building hosts? Where and when do you need these vendors? How will you communicate with them? How will they interact with your attendees?

Audio & Visual: Will you need external A/V or will you be using the venue's A/V? Will you need breakout room A/V? What types of A/V do you plan to have? Projectors? Large screens? Lights? What will be the format of your presentations and workshops?

Expo hall: If you're planning to host an expo hall, make sure to consider where to host the hall within your venue. Maybe it makes the most sense to host it in a separate room, or maybe it makes more sense to have it in a main hallway. Consider size of tables, prices, layout, timing, and more. If you need to put together a sponsorship package, check out this article on tips and recommendations.
Technology Integration
In today's digital age, technology integration is vital for a successful event.
Efficient technology can streamline registration, coordinate vendors, engage attendees, and generate valuable analytics and insights to enhance future events.
There are several areas where technology comes into play:
Registration: What will your registration process look like? Do you need a website created or will you manage your registrations manually? Will you need room management and flights included in your registration? Will you need onsite staff to help manage registration? How do you want registration to work onsite? How far in advance do you want to send out invitations? What types of reporting will you need post-event?

Meeting space: When selecting a meeting space for your event, consider the technology needs of the speakers and ensure there is adequate space for projectors, speakers, video equipment, and other necessary devices, both indoors and outdoors.

Event app: Will you want an app included in your event to help attendees engage with your event? This can include speaker polls, networking, session registration, onsite maps, push notifications, and more.
Security Measures
Security and health and safety measures are also vital to a successful event. This includes guaranteeing the safety of attendees and staff, as well as safeguarding the event's assets.
This can also include ensuring any vendors, employees, and contractors are following proper safety guidelines and codes of conduct.
Some things to consider:
Do you have an emergency plan in place and does everyone at the event know it?

Do you need an outlined chain of communications for the event?

Will you need health and safety measures at this event, such as COVID testing or hand sanitizer stations?

Will you need security onsite? Just during the event or also at night?
Essential Best Practices for Managing Event Logistics
Now that we've covered the key elements of event logistics, let's take a look at some logistics best practices.
These best practices include budget planning and monitoring, team coordination and communication, vendor management, contingency planning, and customer service training.
By following these best practices, you can create a comprehensive logistics strategy that caters to the unique needs of each event and ensures a seamless experience for all attendees.
Budget Planning and Monitoring
Your budget ultimately guides your decisions on many of the logistics questions outlined above.
Consider all expenses associated with the event, such as venue rental, catering, transportation, staffing, and any necessary equipment rentals.
It's also important to allocate slightly more than the benchmark figure for each expense category, creating a cushion to absorb any unforeseen costs.
Team Coordination and Communication
Communication is essential for successful planning. Without it, objectives and goals will not be reached.
Assigning duties to team members and ensuring that each team member understands their role is essential prior to the event. Creating groups on messenger apps and defining a clear set of duties and instructions for team members can facilitate communication.
Define your day-of communication plan and share it with the entire team so onsite management can run smoothly.
Vendor Management
Managing vendors, especially if you have additional considerations like expo halls, can be challenging. Make sure to have consistent communication with these vendors and clearly outline how you will work together in any contracts.
It can be helpful to have your event management company manage vendor relationships, as they will help you not only identify the best vendors for your event but will also hold them to the standard you want.
Contingency Planning
Given the potential for unforeseen issues to arise during an event, contingency planning is essential.
Create a contingency plan that includes explicit steps to take in response to each identified risk, as well as the duties of the team and vendors. Communicate this plan to your team and vendors prior to the event to ensure everyone is on the same page and prepared for any emergency or unforeseen issue.
Event Technology Solutions for Streamlined Logistics
Investing in event technology can greatly enhance the efficiency and success of your event logistics planning.
Event technology solutions, such as event management software, can automate processes, provide real-time data, and improve communication, ultimately streamlining event logistics.
Embracing technology can also greatly enhance your event planning process, from registration and ticket sales to vendor coordination and attendee engagement.
Overcoming Common Challenges in Event Logistics
Despite meticulous planning, event planners may still encounter common challenges in event logistics, such as inadequate technical proficiency, budget overages, inadequate contingency planning, or disgruntled sponsors or attendees.
By adhering to the best practices discussed in this blog post and considering your event from multiple different angles, you can proactively address and overcome these challenges.
Our biggest recommendation is to consider the event from your attendees' point of view. Regardless of your personal thoughts, your company goals, or other viewpoints, your attendees will expect something from your event and you will want to deliver. This should ultimately be your goal when you're planning logistics, from how you choose travel options to what types of food you choose.
Because, ultimately, if your attendees are happy, you will hit your personal and business goals.
Summary
Event logistics is a vital component of successful event planning, encompassing all aspects from venue selection to technology integration.
By understanding the key elements of event logistics and adhering to best practices, such as budget planning, team coordination, vendor management, and contingency planning, you can create a comprehensive logistics strategy that caters to the unique needs of each event.
As we've explored throughout this blog post, executing a successful event logistics plan requires meticulous attention to detail, effective communication, and the ability to adapt to unexpected challenges.
By mastering these skills and incorporating the latest event technology solutions, you can elevate your event planning expertise and create unforgettable experiences for your attendees, ensuring your events stand out above the rest.
Want to brainstorm on how to improve your event logistics? Let's talk about your upcoming events.
Or check out our full meeting planning checklist for your next event.
Frequently Asked Questions
How do you organize event logistics?
Organizing event logistics requires effective planning and collaboration. Create an event timeline, select a venue that suits your needs, assign tasks to team members, ensure vendors are aware of expectations, provide customer service training, and understand your attendees' needs for best results.
What is the role of an event logistics manager?
As an Event Logistics Manager, one is responsible for creating a comprehensive event timeline that takes into consideration all vendors and locations associated with the event. They are also in charge of making sure all necessary materials and staff are available as well as coordinating with vendors and ensuring all deadlines are met.
Additionally, they oversee the setup of events to make sure they run smoothly and provide assistance during the event itself.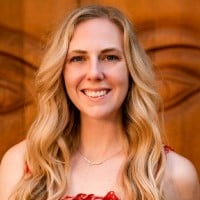 Katie Moser
Katie Moser is the Director of Marketing and Business Development at GoGather. She has an extensive background in creating content and branding for events, working with speakers, and managing agendas for conferences. When she's not updating blog posts and sending out social media posts, she helps clients identify areas of opportunity for their events from branding to communications. In her downtime, she enjoys spending time at one of the many beautiful San Diego beaches, exploring new breweries, or chilling at home with her cat.